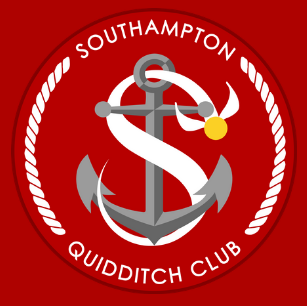 Quidditch
We play a real life active version of quidditch, following the rules set out by the International Quidditch Association. Southampton Quidditch Club is the UK's largest club and have been playing Quidditch since January 2013. Along the way we have also been British Quidditch Champions ranking first at the British Quidditch Cup and also ranking 3rd at the European Quidditch Cup.
Quidditch has been adapted from the magical flying sport in Harry Potter into a highly competitive, full contact and mixed gender sport to be played on the ground.
Since being adapted back in 2005, Quidditch has take off around the world. In America, nearly every college has its own team, which tens of teams competing at nationals and teams in the United Kingdom have been cropping up all over and there are now over 50 teams in Ireland and the UK.
We also have players represented on the British national team - Team UK - who compete internationally every year and are currently the European champions..
---
About Quidditch
Membership Fee Information
Due to the current COVID-19 situation, memberships are not available to purchase until further notice
Photo Gallery
---
The Committee
All clubs and societies within the Students' Union are run entirely by students. The student committee for Quidditch this year are:
Chloe Smith
Coach
Alexandra Jaggs
President
Jesse Rolfe
Secretary
Tobias Scandling
Semester 1 Captain
John Mitchell
Social Secretary
Alexandra Jaggs
Treasurer
Elizabeth Austin
Welfare and Outreach Officer