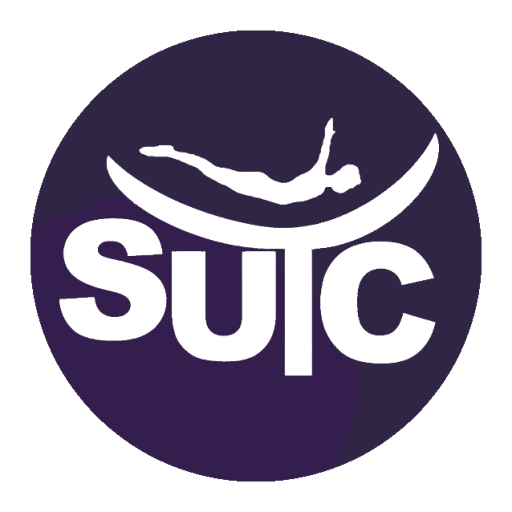 Trampolining
Hello!! SUTC welcome new members of any ability, from complete beginners to those who have been competing for years. We have a number of qualified coaches who can help you to learn at your own pace. We take part in regular competitions, including hosting our own at the end of the year.
As well as BUCS, you can compete all over the UK in the Southern Universities Trampoline League, and even in Ireland with our annual tour to the Irish Student Trampoline Open.
Competing isn't compulsory though - recreational memberships are available (but you'll probably want to join in all the fun before long!).
---
About Trampolining
We currently train in the Jubilee Sports Centre on:
- Tuesday 7pm - 9pm
- Friday 5pm - 7pm
- Saturday 4pm - 6pm
Like our Facebook page : https://www.facebook.com/southamptonuniversitytrampolineclub
Follow us on Instagram : @SUTC_
Twitter :@SUTC_
At SUTC we are a club, that means no trials, or tough commitments! Train how you want to train, and with your membership our coaches can help you train in a safe, fun, and friendly atmosphere.
If all you want to do is mix up your boring weekly gym sessions on the treadmill, our recreational membership is for you!
We do also have optional regional competitions throughout the year, and compete in the BUCS Nationals!
We have many socials throughout the year, both alcoholic and non-alcoholic.
Find us on Facebook for more information, or visit our website:
http://sutc.susu.org/
Come along, have fun, and try Trampolining!
Any questions, send us a message!
We are proud to be sponsored by Safestore UK: https://www.safestore.co.uk/storage/southampton/
---
Membership Fee Information
Due to the current COVID-19 situation, memberships are not available to purchase until further notice
Photo Gallery
---
The Committee
All clubs and societies within the Students' Union are run entirely by students. The student committee for Trampolining this year are:
Andrew Taylor
Captain
Harriet Digweed
Coaching and Welfare Officer
Kerry Miller
Competitions Secretary
Emma Collier
President
Nicola Dobson
Secretary
Shaun Hylands
Social Sec
Chloe Pook
Social Sec
Katy Joyce
Treasurer