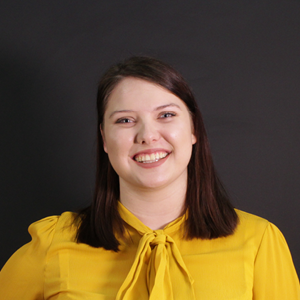 Emily Harrison
Union President
After graduating with a BA History degree, I have spent last year working as the Vice President Student Communities at SUSU and am now returning as President for 2019/20. My remit this year includes Sustainability, Halls, students at Sites (UHS, WSA, NOCS, Boldrewood, Avenue and Malaysia) and the Union's commercial outlets, as well as being the primary liaison with the University and external community partners.

Building on my work from last year, I am really keen to broaden SUSU activity away from Highfield and work more collaboratively to increase SUSU presence at Sites. If you have ideas for what we could be doing better, want to work with us on a project or just want to say hi, please do get in touch!
Year Plan
Sorry there are no plans to currently display.
Supported Roles
The Union President oversees, and is supported by, the following roles:
Benjamin Dolbear
Avenue Officer
Thomas Edwards
Boldrewood Officer
Rishi-Nayan Varodaria
Halls Officer
Nathaniel Ogunniyi
Student Trustee
Ned Williams
Student Trustee
Miguel Robles Florez
Sustainability Officer