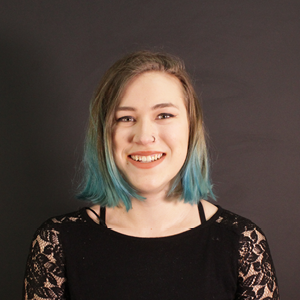 Joanne Lisney
Vice President Education and Democracy
I'm the only member of this year's team to be truly taking a Sabbatical, as I am currently in the second year of my undergraduate YiE BA English degree.

As a student, I've noticed that SUSU is very hot to talk about mental health and do campaigns such as YouAreMoreThan. I'm interested in continuing working with VP Welfare and Community, Laura Barr, to deliver these amazing campaigns throughout the year, but developing the bridge between student mental health and the impact on education.

The key things I'll be working on this year is to review how SUSU runs its Spring elections and what extra support potential and actual candidates need, as well as working on setting up reminder systems for students to highlight overdue work.
Year Plan
Sorry there are no plans to currently display.
Supported Roles
The Vice President Education and Democracy oversees, and is supported by, the following roles:
Joel Jordan
Arts and Humanities Faculty Officer
Yuren Li
Arts and Humanities Postgraduate Research Officer
Bona Xiao
Arts and Humanities Postgraduate Taught Officer
Alicja Bochnacka
Engineering and Physical Sciences Faculty Officer
Nick Hillier
Engineering and Physical Sciences Postgraduate Research Officer
Joel Aldridge
Engineering and Physical Sciences Postgraduate Taught Officer
Michael Carter
Environment and Life Sciences Faculty Officer
Richard Curtis
Environment and Life Sciences Postgraduate Research Officer
Emily Ruiz
Environment and Life Sciences Postgraduate Taught Officer
Bailey Williams
Joint Honours Officer
Raymond Effah
Medicine Faculty Officer (MedSoc Vice President)
Parth Pandya
Social Sciences Faculty Officer