How can members join/register for your society?
Creating memberships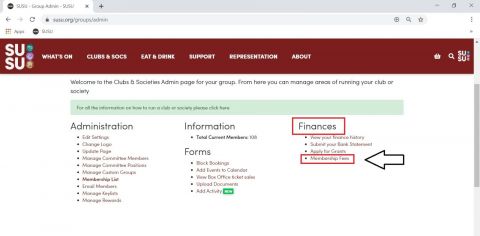 In order for members to be able to join your society, you must create a membership option - either free or paid. Both can be created in a similar way.
On the right hand side there is a section 'Finance' under this you can select 'Membership Fees'
Click "Add Membership" and enter the details, price and the period that the membership covers. Please double-check the start and end dates of your membership and sale period!
You must make sure to add a new membership each year and not just edit the old one.
It is possible to have several membership options. Please note that all memberships have to be purchased through the SUSU website - this is to ensure that members are covered by our insurance and that they have agreed to your privacy notice. Free memberships are in effect instantly after pressing the "Join" button.
Committee members should not get free or discounted memberships that are only available to them as committee. (no committee only memberships)

Remember, non-students can join clubs or societies but must first have associate Union membership. Without this, they will not be insured. SUSU membership can be purchased here. Solent and Recovery College Students are entitled to free membership but they must formally apply for it.
Joining a club/society with free/paid membership
From the main page, head to "Activities" and select "Activities Home"
Search for the club or society you would like to join
On the individual society page, click "Memberships" and tick the box of the Membership you want and click "Join selected Membership"
Paid Memberships will then take you to a page to fill out your bank details