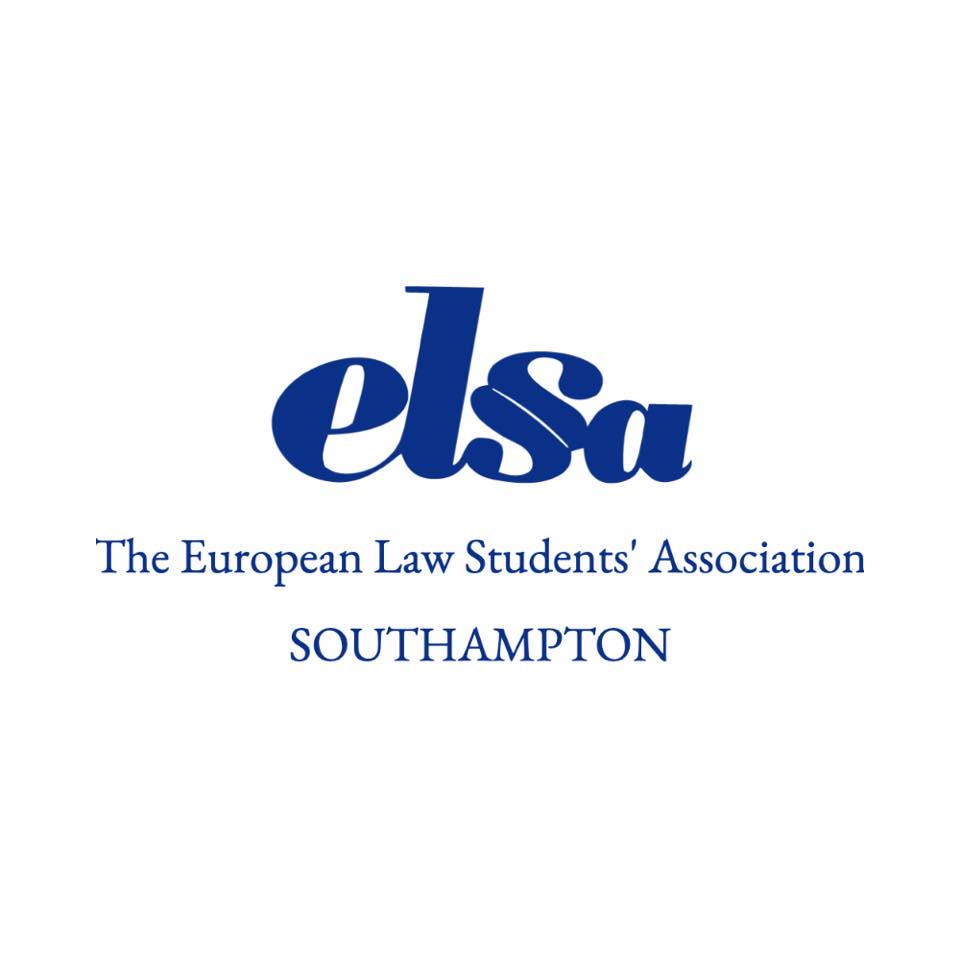 The European Law Students' Association (ELSA) is an international, independent organisation run by and for students and recent graduates. It is the largest independent law students' association in the world, with a membership of over 50,000 young people in over 40 countries. ELSA Southampton is a division of the Association, founded in September 2019, part of the wider ELSA network. This society is not just for Europeans - we are a diverse and inclusive community.
ELSA Southampton aims to build a supportive and inspiring local community, part of the wider ELSA network and assist all students interested in law regardless of their background. We aim to provide our members with a platform to develop their existing skills and acquire new ones, and to interact with fellow students and experienced practitioners from different states and legal systems around Europe. By joining ELSA Southampton, you will be able to benefit from the vast opportunities the Association offers such as International Moot Competitions, Law Schools around Europe and Delegation to the main international organisations.
Photo Gallery
The Committee
All clubs and societies within the Students' Union are run entirely by students. The student committee for European Law Students' Association this year are:
Jessica Brixey
President
Adam Draper
Secretary General
Lambros Andreades
Treasurer
Syeda Jannat
VP for Academic Activities
Anisia Zlataru
VP for Marketing
Clement Tsang
VP for Moot Court Competitions
You May Also Like...
Here are a selection of similar clubs and societies that you may also be interested in
Membership Information
These are the current membership fees offered by European Law Students' Association, although many clubs and societies offer a free period for new members to try out their activities.
| Name | Cost | Valid Period | Details | |
| --- | --- | --- | --- | --- |
| ELSA Southampton 2 Year Membership | £8.00 | 01/10/2021 - 01/07/2023 | Access to the largest independent law students' association in the world, with a membership of over 50,000 young people in over 40 countries. By joining ELSA Southampton, you will be able to benefit from the vast opportunities the Association offers such as International Moot Competitions, Law Schools around Europe and Delegation to the main international organisations. | |
| ELSA Southampton 3 Year Membership | £12.00 | 01/10/2021 - 01/07/2024 | Access to the largest independent law students' association in the world, with a membership of over 50,000 young people in over 40 countries. By joining ELSA Southampton, you will be able to benefit from the vast opportunities the Association offers such as International Moot Competitions, Law Schools around Europe and Delegation to the main international organisations. | |
| ELSA Southampton 1 Year Membership 2022/23 | £5.00 | 03/10/2022 - 03/10/2023 | Access to the largest independent law students' association in the world, with a membership of over 50,000 young people in over 40 countries. By joining ELSA Southampton, you will be able to benefit from the vast opportunities the Association offers such as International Moot Competitions, Law Schools around Europe and Delegation to the main international organisations. | |
| ELSA Southampton 3 Year Membership | £12.00 | 03/10/2022 - 03/10/2025 | Access to the largest independent law students' association in the world, with a membership of over 50,000 young people in over 40 countries. By joining ELSA Southampton, you will be able to benefit from the vast opportunities the Association offers such as International Moot Competitions, Law Schools around Europe and Delegation to the main international organisations. | |
| ELSA Southampton 2 Year Membership | £8.00 | 03/10/2022 - 03/10/2024 | Access to the largest independent law students' association in the world, with a membership of over 50,000 young people in over 40 countries. By joining ELSA Southampton, you will be able to benefit from the vast opportunities the Association offers such as International Moot Competitions, Law Schools around Europe and Delegation to the main international organisations. | |
| FREE ELSA Southampton 1 year membership 2022/23 | FREE | 14/10/2022 - 14/10/2023 | This is a limited membership for the first 30 people! You will have access to the largest independent law students' association in the world, with a membership of over 50,000 young people in over 40 countries. By joining ELSA Southampton, you will be able to benefit from the vast opportunities the Association offers such as International Moot Competitions, Law Schools around Europe and Delegation to the main international organisations. | |
Constitution
All SUSU clubs & societies must have a Constitution which governs how they run
Download Constitution
Health & Safety
All clubs & societies are required to risk assess their activity to ensure it is carried out in a safe manner for members. Current risk assessments for European Law Students' Association are available to view below