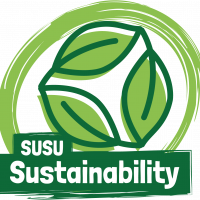 Everyone can do their bit to be more sustainable and help protect our planet. Find out about SUSU's sustainable initiatives and partnerships, including our partnership with the University on delivery of their Sustainability Strategy.
University of Southampton Sustainability Strategy
The University of Southampton's Strategic Plan for Sustainability was developed by the University, in partnership with SUSU. It sets out a vision for a more sustainable University and what we need to achieve to get there.
Want to get involved with sustainability in your spare time? Join one of our many sustainability focused societies where you can learn a new skill, volunteer in the local community, and really make a difference!
UoS Sustainability Online Courses
UOSM2043 Global Sustainability Challenges Module
Open to all students. This module will challenge you to develop your own definition of sustainability while considering how it is actioned by the many different actors (from citizens to governments, NGOs and businesses) who play a part in taking decisions about sustainability at various scales at the local and global level.
Southampton Sustainability Solutions
The University offer an online self-led 3-week course to introduce the Sustainability Strategy. You'll learn about the 6 Goals, what sustainability means for each of us and why it's important.