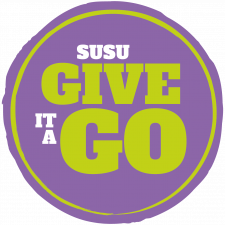 Give It A Go is an activity programme provided by SUSU where you can find diverse weekly craft workshops, day trips to near cities, taster sessions by our clubs and societies such as surfing, volunteering and lots of fun things to do! There is no long-term commitment, and all events are at student-friendly costs. If you have any questions you can get in touch with us via giveitago@soton.ac.uk.
Take a look at all the events coming up soon below, or on our events calendar.
Run a Give It A Go Session
If your society or sports club would like to run a event or taster session for students through Give It A Go, please contact us via our Clubs and Societies form: 
GIAG Club and Societies Submissions.
If you have a skill you'd like to teach others (such as arts and crafts), please contact us via our Skills Workshops form: 
GIAG Skill Workshops.