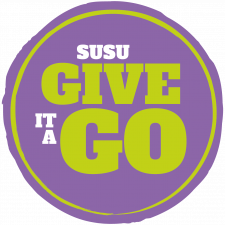 Give It A Go with SUSU! Join us for exciting experiences and day trips like brewery tours, picnics at the beach, or outdoor cinema screenings. Learn a new skill, experience a new culture, or volunteer within the local community. We aim to offer something for everyone. We offer students a diverse range of one-off activities, challenges, tours and trips run throughout the academic year by SUSU and our societies. There is no long-term commitment and all events are at student-friendly costs. If you have any questions you can get in touch with us via 
giveitago@soton.ac.uk
. Take a look at all the events coming up soon below, or on our 
events calendar.
Run a Give It A Go Session
If your society or sports club would like to run a event or taster session for students through Give It A Go, please contact us via our Clubs and Societies form: 
GIAG Club and Societies Submissions.
If you have a skill you'd like to teach others (such as arts and crafts), please contact us via our Skills Workshops form: 
GIAG Skill Workshops.
Give It a Go Events
Give It A Go Craft Lab (3rd October)

03 Oct -
Concourse Concourse'
SUSU

Give It A Go Craft Lab (5th October)

05 Oct -
WSA Cafe WSA Cafe'
SUSU

GIAG Skill Workshop: Learn Morden Calligraphy

12 Oct -
Concourse Concourse'
SUSU

GIAG Taster Session: Play Blood on the Clocktower with GameSoc

13 Oct -
34/5003 34/5003'
Games Society,SUSU

Come N Go: What's Love Got To Do With It? (BHM)

22 Oct -
Mayflower Theatre Mayflower Theatre'
SUSU