The Safety Bus is a 
FREE
 service to help make sure you get home from our venues on campus safely. It runs every evening during term time from outside SUSU 
Building 42 at Highfield Campus, 
and will drop you off right at your door!
The Safety Bus runs on the hour and will also leave sooner if needed. There will be a dedicated trip each night at 21:00 for students living in Winchester. Additional trips may be possible depending on demand on the night or alternatively the drivers will be happy to take Winchester students to the train station or bus stop.
If we are running events on campus after midnight, the Safety Bus will run on the hour until the event finishes to ensure you can get home safely.
Please be aware that for safety reasons CCTV is used on the Safety Bus. This footage is deleted after 7 days.
Use of the Safety Bus is governed by our terms of service to ensure the service is not abused, our drivers are kept safe and the service is provided fairly to students, you can view these terms here:
 terms of service.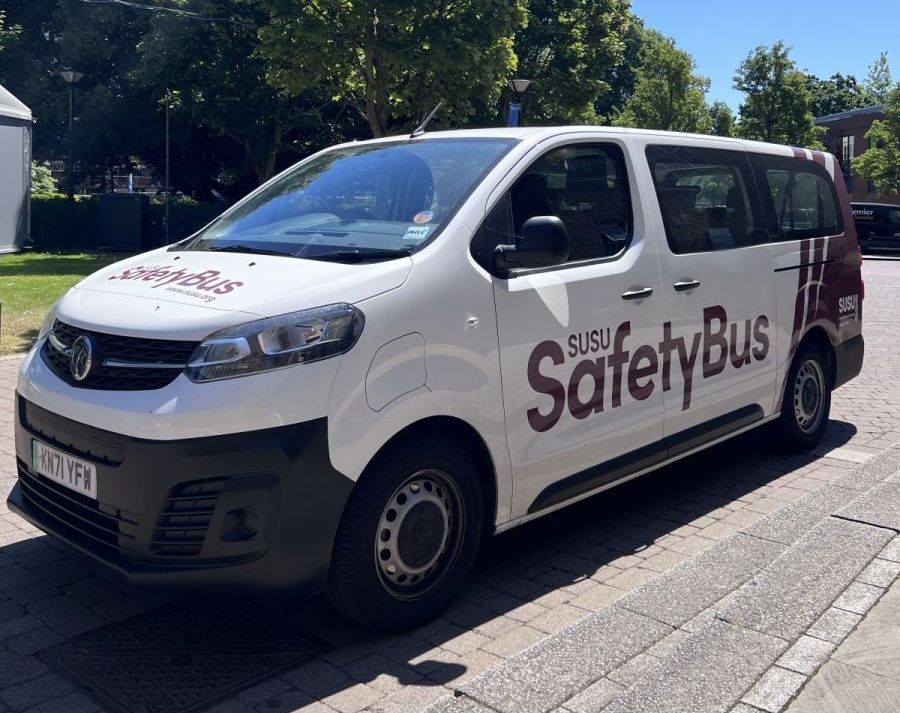 Term Opening Hours*
Monday & Tuesday: 20:00

– 00:00

Wednesday: 20:00

– 01:00

Thursday:  20:00 – 02:00

Friday: 20:00

– 01:00

Saturday & Sunday : 20:00

– 00:00

*Buses leave on the hour, every hour between the above times.
Vacation Opening Hours
Monday – Sunday: 

Closed