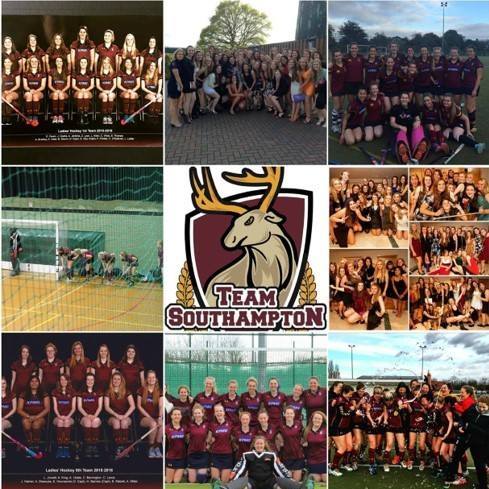 Hockey (Ladies)
Southampton University Ladies Hockey Club, (also known as Wessex), fields a variety of teams welcoming all abilities. This includes four teams in BUCS leagues (British University and College Sport), two teams in the local Hampshire league, one of which is the development team, one mixed team and one indoor team in Hampshire league.
The club prides itself on being one of the largest, most successful and socially active within the University Athletic Union.
As a result the club expanded by creating a development team in response to increasing membership demands. Southampton University Ladies Hockey Club are highly active off the turf with a vast range of socials and formal balls including joint events held with the Mens Hockey Club and regular tours both UK-based and overseas.
---
About Hockey (Ladies)
Welcome to the site of Southampton University Ladies Hockey Club. We have 4 teams playing in BUCS university leagues on Wednesdays and 2 teams playing in local Hampshire leagues on Saturdays. All abilities are welcome! For any enquiries contact us via email at sulhc@soton.ac.uk or on social media. Instagram: wessex_sulhc Facebook: @SULHCWessex
---
Membership Fee Information
Due to the current COVID-19 situation, paid memberships are not available to purchase until further notice
---
The Committee
All clubs and societies within the Students' Union are run entirely by students. The student committee for Hockey (Ladies) this year are:
Christina Georgiou
1st XI Captain
Bronwyn Walker-Rouse
2nd XI Captain
Ella Bishop
3rd XI Captain
Esther Holloway
4th XI Captain
Alex Collington
5th XI Captain
Lauren Thomas
Club Captain
Rachael Knatchbull
Club Captain
Amy Whittle
Indoor Captain
Madelyne Mabon
Indoor Captain
Angelica Pettafor
Kit Secretary
Rachael Sims
Kit Secretary
Chloe Darlington
Mixed Captain
Angelica Pettafor
Mixed Captain
Charlotte McCosker
Saturday Squad Captain
Matilda Munday
Saturday Squad Captain
Eve Sammons
Social Media Sec
Sofia Condes
Social Media Sec
Lowri Morgan
Social Media Sec
Niamh Sheehan
Social Secretary
Lauren Thomas
Social Secretary
Rebecca Easton
Social Secretary
Isabelle Harding
Social Secretary
Rebecca Easton
Tour Secretary
Abigail Taylor
Tour Secretary
Alex Collington
Treasurer
Jennifer Murphy
Treasurer
Charlotte Morea
ULO
Anna Luxton
ULO
Georgia Lunn
Vice Club Captain
India Goodman
Vice Club Captain
Georgia Lunn
Welfare Officer
India Goodman
Welfare Officer
---
Health & Safety
All clubs & societies are required to risk assess their activity to ensure it is carried out in a safe manner for members. Current risk assessments for Hockey (Ladies) are available to view below