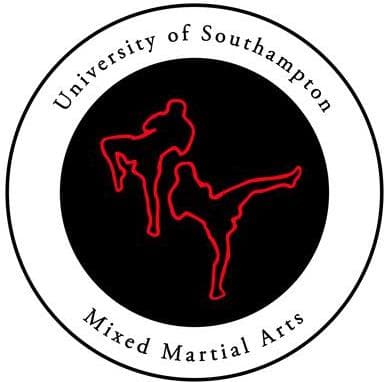 Mixed Martial Arts (MMA)
Whether you're looking to learn self-defence, get fit or fight, Mixed Martial Arts is a brilliant way to improve yourself both physically and mentally.
We specialise in Muay Thai and Brazilian Jiu-Jitsu, with additional wrestling and MMA classes. We're a friendly and sociable club always willing to take on people of any skill level, from beginner to professional, so don't feel intimidated if it's your first time! If you have any questions don't hesitate to contact a member of the committee through our Facebook page.
---
About Mixed Martial Arts (MMA)
Muay Thai is a striking martial art using fists, elbows, knees and shins, and is widely considered the best striking martial art in the world. Our sessions are accessible to everyone whether you're a total beginner or an advanced fighter, so don't hesitate to come and give them a try. Thai Boxing techniques have seen great success in Mixed Martial Arts recently, namely in the UFC, and it's a really fun way to meet new people and let off some steam.
Brazilian Jiu-Jitsu is a grappling martial art, focused on leverage and technique, allowing smaller practitioners to overcome bigger and stronger opponents. A wide variety of grappling techniques are taught, such as joint locks and strangle holds. We have women's only Self-Defence classes using the techniques of both sports for girls interested in learning about self-defence or looking to get into Brazillian Jiu-Jitsu in a female-dominated environment. Our Monday sessions are no-gi, so turn up in whatever comfy workout attire you normally wear (though we advise long leg wear to prevent mat burn.)
We also have MMA classes featuring some wrestling elements on Saturdays under the teaching of Bryony Tyrell, a professional Women's MMA fighter. All members have access to discounted membership at the local Exile Shirley Gym where you can take your training to the next level.
We're a friendly and sociable club so please don't feel intimidated to come and try it out. We have weekly socials (with cake as a regular feature) and plenty of opportunities to meet and get to know the people in the club. Our committee are here for you, so if you have any questions please message a member of the committee through the facebook page and we'll do our best to help.
Whether you're looking to learn self defence, get fit or get into fighting, we provide it all. You can train as much or as little as you like, with many people preferring purely Muay Thai or Brazillian Jiu-Jitsu, however as a club we have 6 available training sessions per week. Sparring is completely optional and if you're ever uncomfortable or need a breather please tell someone, if you're interested in fighting in Muay Thai or competing in Brazillian Jiu-Jitsu we regularly take part in interclub competitions throughout the year, and are planning to host our own Muay Thai Fight Night in February/March next year.
Training times:
Monday - Brazillian Jiu-Jitsu (BJJ) 19:00-22:00 pm in the Martial Arts Room
Wednesday - Muay Thai 17:30-19:00 pm in Glen Eyre Hall, with Daniel Victor-Bourne, professional MMA coach.
Thursday - (FREE) Women's Self-Defence Classes 14:00-15:00 pm in the Martial Arts room, from 15:00-16:00 we have an open mat available to everyone.
Friday - Open mat 20:30-21:30pm in the MA room.
Saturday - BJJ/MMA 11:30AM-13:30PM in the MA room, with Bryony Tyrell every other week. Other sessions are taught by the Grappling Captain, Max.
Sunday - Muay Thai 18:00-20:00 in Glen Eyre Sports Hall, with Daniel Victor-Bourne, professional MMA coach or our Striking Captain, Iusuf Eren.
Come along and give it a try - your first week is free!
Get in contact through our social media:
https://www.facebook.com/groups/49654518883/
https://www.instagram.com/sumtclub/
https://www.youtube.com/channel/UCmM-MTKaPt6tQxpmCOnXyHw
---
Membership Fee Information
Due to the current COVID-19 situation, memberships are not available to purchase until further notice
Photo Gallery
---
The Committee
All clubs and societies within the Students' Union are run entirely by students. The student committee for Mixed Martial Arts (MMA) this year are:
Maximilian Kallmeier
Grappling Captain
Methusha Sakthipakan
Health and Safety
Caitlin Dye
Kit Sec
Ruta Czaplinska
Media & Marketing
Laura Smith
President
Lucy Steadman
Secretary
Louis Dadswell
Social Sec
Eren-Selim Iusuf
Striking Captain
Daniel Jones
Treasurer
Molly Bacon
Women's Captain