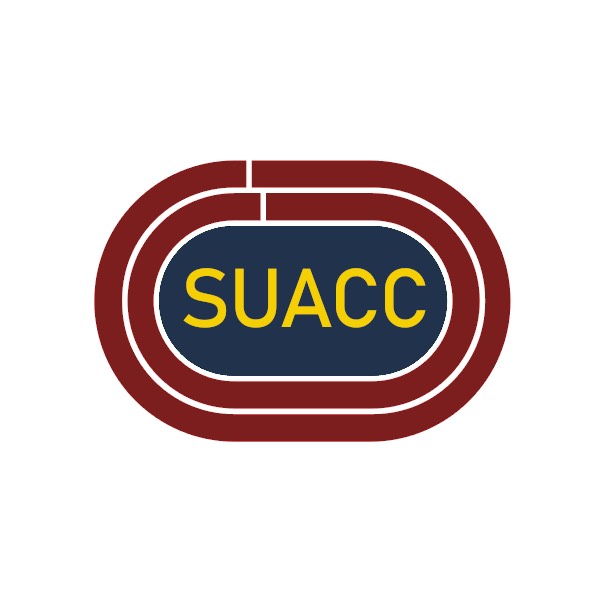 Southampton University Athletics and Cross-Country Club provides training and competition opportunities for all levels. Competitions include Varsity vs Portsmouth, SESSA, BUCS XC, BUCS indoors and BUCS outdoors (British University and College Sport). We also have a team in the Hampshire cross country league, and regularly have team trips to open events through out the year (we have England Athletics affiliation, and so all performances can be recorded on the Power of 10, if you are not already a member of a club at home)
Hi! We're the University of Southampton's Athletics & Cross-Country Club!
We pride ourselves on being an all-inclusive, socially active club. Often the perception is that Athletics is an elitist sport, but this is far from the case. Our committee is dedicated to helping each and every member achieve their own specific goals.
We offer a wide range of training so that all of our members feel comfortable from complete beginners up to members competing at the highest standards. As well as high-level training sessions lead by our committee, we also run weekly casual group runs and long runs. With over five sessions a week you can join in whatever your schedule!
We are very fortunate to offer high-level coaching to our members from Southampton Athletics Club over the last few years who have years of experience and hope to join them again soon once COVID restrictions ease. If you wish for additional sessions with Southampton Athletics Club then we can also put you in touch with the relevant coaches. Furthermore, if you're recovering from an injury, we can help guide you through rehabilitation, such is the frequency of injury in our sport inevitably someone will have the experience to help!
We enter many competitions throughout the year including BUCS Cross Country, BUCS Indoors, BUCS Outdoors, Hampshire League Cross Country and Varsity. There is also the opportunity to represent Southampton Athletics Club in the Southern Athletics League and the British Athletics League, by becoming a member of their club.
We also go on tour in the first week of the Easter holiday, in the past two years we have gone to Cyprus and Croatia - this is a definite highlight of the year! Furthermore, each semester we do a weekend away, where we travel to another city such as Bath, as a team, for a mix of training and socialising.
We run a wide range of regular socials for our members to get to know each other better and forget about the stresses of university life! Our socials vary year to year depending on our members but there will always be something for you no matter your interests!
To find out more about SUACC visit our website and join our Facebook Group. If you have any questions please don't hesitate to message a committee member on Facebook.
Photo Gallery
The Committee
All clubs and societies within the Students' Union are run entirely by students. The student committee for Athletics & Cross Country this year are:
Zoe White
Endurance Captain
Jack Fussey
Endurance Captain
Klairi Siotou
Field Captain
George Hill
Kit Sec
Alex Hutchison
President
Lani Cardwell
Social Run Sec
William Sullivan
Social Sec
Harry Wood
Social Sec
Amber White
Sprint Captain
Anna Williams
Sprint Captain
Toby Everist
Treasurer
Lucy Bradshaw
Vice President
Emily Jones
Welfare Sec
You May Also Like...
Here are a selection of similar clubs and societies that you may also be interested in
Membership Information
These are the current membership fees offered by Athletics & Cross Country, although many clubs and societies offer a free period for new members to try out their activities.
Please note that some memberships of this group may also require you to purchase
Sport & Wellbeing membership
from the University of Southampton in order to use the relevant sport facilities
| Name | Cost | Valid Period | Details | |
| --- | --- | --- | --- | --- |
| SUACC Full Membership - 1 Year | £50.00 | 01/10/2022 - 31/07/2023 | This membership provides exclusive access to training sessions with our national level coaches; such as the two weekly track sessions, weekly strength and conditioning session, use of the club's equipment, subsidised social events, the chance to compete at Varsity and part-subsidised competitions such as BUCS. This membership also part-subsidises England Athletics registration (we are a registered club, meaning we can enter teams into the Hampshire league etc), so that your performances can be recorded on The Power of 10 and you also get discounts on many external race entries. | |
| Group Run Membership | FREE | 01/10/2022 - 31/08/2023 | Our Group Run membership is perfect for beginners! This membership allows you to join in with our weekly group-runs on Thursdays. These sessions include the couch to 5km, 3 mile, 4 mile and 5 mile groups. All groups are very relaxed social runs and anyone is welcome to come, at any level of fitness. Group Run members are also welcome to join us at Saturday Parkruns. This membership also grants you access to social events and trips, however for the subsidised events you would need to pay as you go. The group is typically quite big and the group leaders will be wearing high-visibility vests so it is a safe way to go out for regular runs. There is also insurance cover when you take up this membership. Everyone is welcome to join, regardless of ability, gender etc! Please note: This membership option is strictly for those who just attend group runs and does not grant access to any other part of the club and is by no means a back-door entrance to the full membership. | |
| DOUBLE - SUACC/SUTRI membership | £60.00 | 29/09/2022 - 03/10/2023 | Access to both suacc & sutri training sessions. Able to compete for both societies | |
| Semester 2 Full Membership | £25.00 | 05/01/2023 - 23/06/2023 | This membership provides exclusive access to training sessions such as the weekly sports hall core session and sessions at the track, use of the clubs equipment, subsidised social events, the chance to compete at Varsity and part-subsidised competitions such as BUCS. This membership also part-subsidises England Athletics registration (we are a registered club, meaning we can enter teams into the Hampshire league etc), if you are not already a member of an athletics club, so that your performances can be recorded on The Power of 10 and so you get discounts on many external race entries. | |
Constitution
All SUSU clubs & societies must have a Constitution which governs how they run
Download Constitution
Health & Safety
All clubs & societies are required to risk assess their activity to ensure it is carried out in a safe manner for members. Current risk assessments for Athletics & Cross Country are available to view below