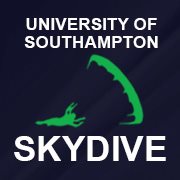 Skydive
A place for people of any experience level to join the world of competitive skydiving..
---
About Skydive
If you've ever wanted to jump out of a plane, then this is the club for you!
We run skydiving training courses at the beginning and middle of every academic year, no prior experience required.
If you'd like to get involved, send us an email at skydive@soton.ac.uk, or send us a message on Facebook.
Facebook public page:
www.facebook.com/UoSSkydiveClub
Facebook group:
www.facebook.com/groups/UosSkydiveClub
Skydive club promo video:
https://www.youtube.com/watch?v=B3OUdaCKHyA
---
Membership Fee Information
Due to the current COVID-19 situation, paid memberships are not available to purchase until further notice
Photo Gallery
---
The Committee
All clubs and societies within the Students' Union are run entirely by students. The student committee for Skydive this year are:
Thomas Cramp
President
John Murray
President
Tara Landmark
Public Relations Officer
James Goodley
Social Secretary
Umar Khan
Treasurer
Christopher Chittock
Vice President
---
Health & Safety
All clubs & societies are required to risk assess their activity to ensure it is carried out in a safe manner for members. Current risk assessments for Skydive are available to view below