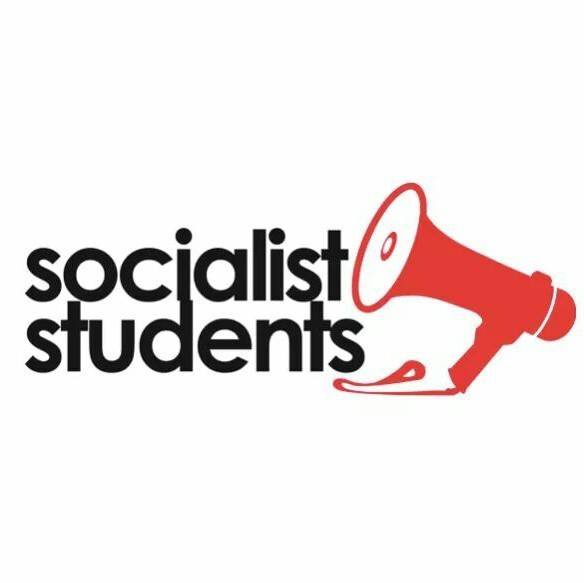 Socialist Students Society
Interested in Socialist Students Society?
You can join as an "interested member" for free until 18 October 2020. This will allow the committee to contact you with details of taster sessions and welcome activity and allow you to decide whether you want to join for the year
Watch our current president live on CWI media above from 15.00 minutes in explain more about what we are fighting for.
Join Socialist Students and join the fight for a future we can look forward to and nor fear!
Are you a socialist? Do you want to learn more about what socialists stand for? Do you want to be active in the struggle to change things? Whether you are already a socialist or still exploring socialist ideas, we want you to join our society! Southampton Socialist Students is open to all students who are looking for an alternative to the misery of capitalism.
The future faced by young people in the crisis-ridden world means a fightback is necessary. Mass youth unemployment is widely predicted. The collapse in university funding further threatens our right to education. Our ability to move out of home and the hope of a decent life, not weighed down by debt and low pay, were already severely limited. The corona crisis has further exposed that the capitalist system and its parties of the rich cannot be trusted to give us a future.
Young people have no choice but to get organised and fight for a future. Before the covid pandemic hit, the world was being shaken by mass movements – from Chile to Lebanon to Hong Kong – with courageous young people playing a big role. Now the covid crisis and the economic crisis it has opened up have intensified the inequality that triggered those movements. Already some of those movements are re-emerging – and they will spread and grow.
Southampton Socialist Students want to part of the movement for change here in Britain but we need your help! The Young Socialists & Socialist Students have produced a youth charter for discussion and debate, which you can read on our website. If you agree, join us in the fight for a future we can look forward to not fear.
What do we do?
We are active in the struggle to change things. We organise and mobilise our members to defend education, fight war and oppression and to campaign on a wide range of other issues relevant to our members. We host regular meetings where we can discuss and debate both current and historical ideas that can help us understand the world we live in and how we might be able to change it. This year we will be doing a combination of in-person and virtual events alongside our existing campaigning work. Join us to receive email updates about our plans.
About Socialist Students
Southampton Socialist Students is affiliated to Socialist Students, which is a democratic campaigning organisation that has groups in over 30 university and college campuses across Britain. We stand against the marketisation of higher education and campaign for free education, with an end to student debt. We campaign for rent control, the scrapping of agency fees and for mass council house building. We oppose oppression and stand in solidarity with those fighting for liberation.
Photo Gallery
You May Also Like...
Here are a selection of similar clubs and societies that you may also be interested in
The Committee
All clubs and societies within the Students' Union are run entirely by students. The student committee for Socialist Students Society this year are:
Rebecca Gardner
President
Dominic Gingell
Secretary
Megan Sharpe
Treasurer
Membership Information
These are the current membership fees offered by Socialist Students Society, although many clubs and societies offer a free period for new members to try out their activities.
| Name | Cost | Valid Period | Details | |
| --- | --- | --- | --- | --- |
| Standard membership | FREE | 31/07/2020 - 01/08/2021 | As a member you will receive email updates about the activities of the society including invitations to meetings and campaigns as well as access to our materials and literature | |
| Freshers deal | £10.00 | 31/07/2020 - 31/07/2021 | Membership includes a copy of the Socialist Student Magazine, a socialist student sticker pack and a virtual pass to Socialism2020, a four day virtual festival with Socialist speakers from around the world, normally worth £20.00 | |
Constitution
All SUSU clubs & societies must have a Constitution which governs how they run
Download Constitution
Health & Safety
All clubs & societies are required to risk assess their activity to ensure it is carried out in a safe manner for members. Current risk assessments for Socialist Students Society are available to view below