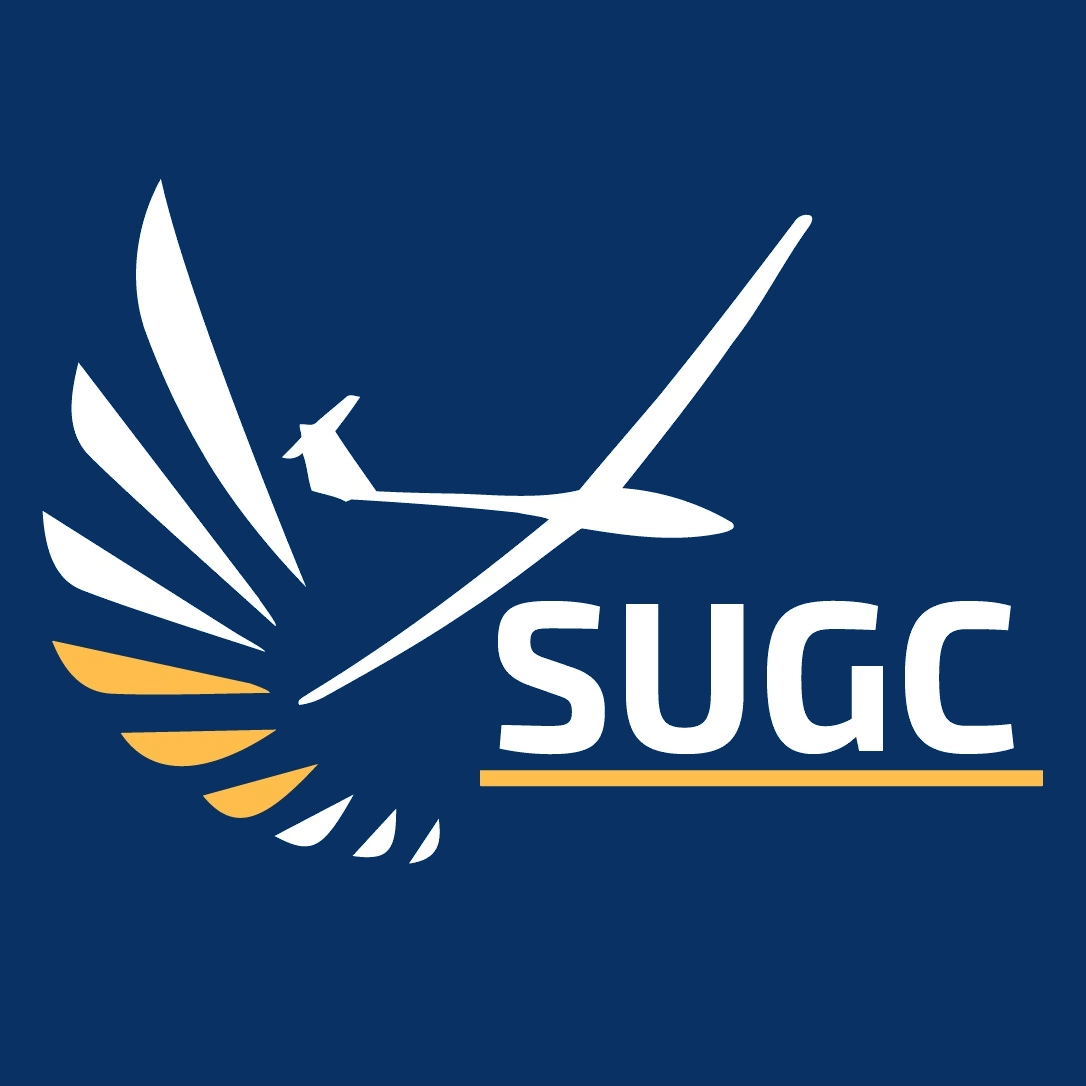 Whether you want to take up gliding as a serious hobby or just experience it once, we'd love to get you flying! As a university club, we enjoy cheaper rates than regular glider pilots, making this a great time to learn to fly. We fly from Shalbourne on most weekends when the weather is right. In addition to our weekly flying, where we hope that as many members as possible will endeavour to progress to their first solo flight and beyond, we also aim to run at least three expeditions to other gliding sites in the UK. All airfields are different and offer opportunities to experience other types of flying which aren't possible from our home club, so we really think that this is a great way to progress and enjoy this amazing sport!
Want a fun and exciting way to wind down after exams? Sign up for a trial flight with SUGC and get to experience an exhilarating winch launch, amazing views from the air, and the ability to take control of a glider and fly it around the sky. Anyone can sign up to try a cheaper way to fly than powered flying, and it's also an opportunity to see how a gliding airfield works and operates. This is a one-time offer for after exams, and is a great way to decide if you want to sign up for gliding next year. It will take place after the exams are over from the 6th to the 17th of June. We'll email you once you buy this package to organise travel.
Head over to the "Membership" tab to buy the package and get started!
A summary of our club activities! 
Transport: We go gliding at Shalbourne gliding club (which is about 45 min drive) from Southampton and it is only realistically accessible by car. Currently a few of us have cars and can take up to 4 additional people on a given day. In addition some of the Shalbourne club members, that live in Southampton, have kindly agreed to drive us on the days they go. 
Days and Weather: Shalbourne Gliding Club is open on Wednesdays and during the weekend. We normally go gliding on the weekend, usually keeping an eye on the weather before we send a confirmation email on Thursday or Friday inviting our members to join us. 
On the day: Gliding is a whole day event. We leave Southampton at 8am and get there for around 8.45am. Usually the first two hours is spent prepping the field and checking the gliders. Then we can go gliding, which could last until 7:00pm (if the weather is good). During the day we retrieve the gliders and generally help out running the airfield. Normally pre-solo members would get 3 flights on the day (depending on how busy it is), with each flight lasting about 15 minutes. Although, on a good day, a flight could last up to 1 hour. Finally, the last hour is spent putting the gliders and airfield equipment away. 
Safety: Gliding in general has a very good safety record when compared to other extreme sports. As a club, we would like to maintain this safety record so please consider the following before you come flying with us: 
Alcohol: Please do not any drink alcohol at least 12 hours before you are due to fly.
Weight: For safety all gliders have lower and upper limits for the allowable mass of the pilot. While it is easy to add ballast for lighter pilots, unfortunately those of you weighing above 103kg will not be able to fly.
Airfield: Please remember that this is active airfield and be aware of your surroundings. Most importantly always check with somebody before walking or driving across the airfield.
Costs: We offer a set "Trial Lesson" gliding package for people interested in experiencing gliding. The trial lesson will include one flight of up to 30min (or 2 launches if the 30min duration is not possible) and will cost a total of £60. For those of you that wish to join directly (or after your trial lesson), our annual membership is £68*, which goes towards covering the club's annual membership that we pay directly to our host club Shalbourne. In addition members pay towards any of their flying they do during the day. These are £8 per launch (with the 3rd launch on the day free) and 29p/min for any airtime after 15mins (which includes the cost of the instructor). 
Regardless of which option you pick, we ask attendees to contribute £5 towards the fuel costs of the driver. 
*If any of you are over the age of 26, you flying costs will be slightly higher. This is because Shalbourne and the British Gliding Association classes anyone under the age of 26 as a Junior, for which they benefit from cheaper rates. In your case membership will be £70 and the rates will be: £10 per launch and 35p/min for any airtime after 15mins. 
If you have any questions don't hesitate to email us at: gliding@soton.ac.uk or find us on facebook at: https://www.facebook.com/sugliding
Photo Gallery
The Committee
All clubs and societies within the Students' Union are run entirely by students. The student committee for Gliding this year are:
Pok Lui
Aircraft Officer
Hermione Starey
Airfield Management Officer
Nikolay Ulybin
Captain
Myles Russell
Equipment Officer
Ryan Marquess
First Officier
Nikita Pavliukevich
First Officier
J Michael Tennant
Logistics Officer
Nelda Bagua Aguagallo
Publicity Officer
Robert Harpur
Safety Officier
Edward Vining
Secretary
Agnes Pottage
Social Media Administrator
Cyprien Camaly
Social Secretary
Callum Gilchrist
SUGC Web Development
Aliaksei Pilko
Treasurer
Lauren McAleer
Vice Captain
Nicolas Wahler
Vice Captain
You May Also Like...
Here are a selection of similar clubs and societies that you may also be interested in
Membership Information
These are the current membership fees offered by Gliding, although many clubs and societies offer a free period for new members to try out their activities.
| Name | Cost | Valid Period | Details | |
| --- | --- | --- | --- | --- |
| Full Membership (26 years old and above only) | £75.00 | 26/09/2022 - 18/09/2023 | This membership is identical to the other yearly membership, although is only applicable to members who are 26 years old or above. The reason for the higher membership is that an additional fee is incurred by Shalbourne Gliding Club, as they have to pay an affiliation fee to the British Gliding Association for every member over 26 years old. This year this fee will be covered by those members. Note that your actual flying costs will also be slightly higher. | |
| Interested in Trial Flight | FREE | 26/09/2022 - 12/09/2023 | This includes a one-day membership, with up to 15 minutes of flying included in the £60, either as one soaring flight or, if the first flight does not last 15 minutes due to the weather, a second flight will be offered free of charge. This would normally be around £75-105 at most clubs, so is great value for those who are unsure if gliding is for them! By signing up to this (free) membership, you are simply expressing interest in taking a trial flight. Each week, we prioritise full flying members. However, there are regularly spaces available for trial flights, and there are even special days put on especially for trial flights. By signing up here, you are adding yourself to the mailing list of interested people and will receive invitations from time to time! | |
| Full Membership (16-25 years old) | £68.00 | 26/09/2022 - 25/09/2023 | This will provide you with a year membership to SUGC. If you are 26 years old or above, please purchase the other membership option. Full membership includes: Membership to Shalbourne ; Affiliation with BGA ; Invitations to UKJG events and inter university gliding competition! ; More social events than ever before; Subsidised soaring fees for all training flights | |
| Trial Flight to Full Member Conversion Fee | £17.00 | 26/09/2022 - 17/10/2023 | When Purchasing a Trial Flight(which is highly recommended for newer members), the fee covers the gliding you will do that day and your insurance for that period of time. SUGC understands that for University students paying the trail flight plus then the membership fee can be costly, so instead if you first purchase the Trial flight and want to become a full member, purchase this AFTER your Trial Flight. The fee covers reformatting of the insurance policy to cover the entire year. | |
Constitution
All SUSU clubs & societies must have a Constitution which governs how they run
Download Constitution
Health & Safety
All clubs & societies are required to risk assess their activity to ensure it is carried out in a safe manner for members. Current risk assessments for Gliding are available to view below