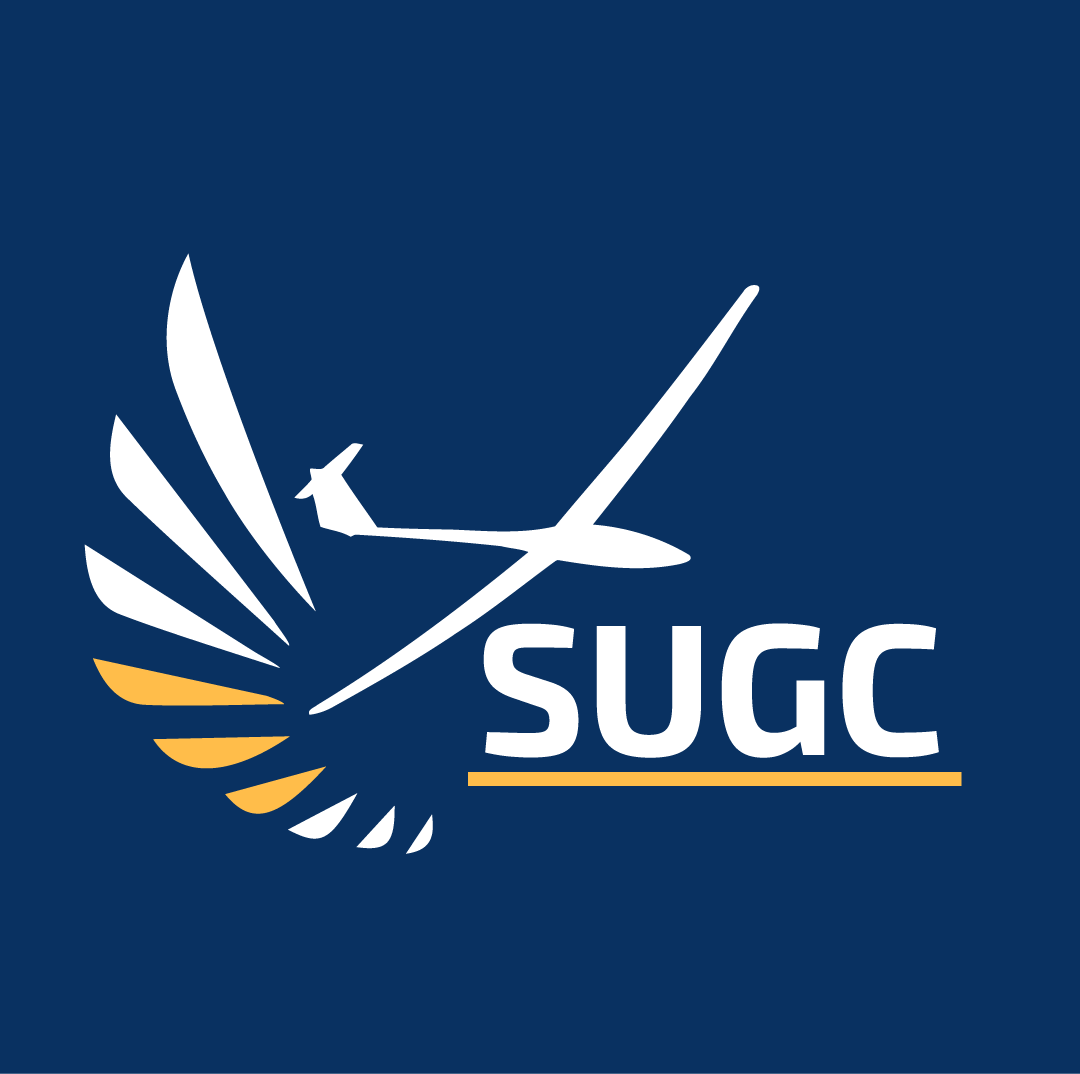 Whether you want to take up gliding as a serious hobby or just experience it once, we'd love to get you flying! As a university club, we enjoy cheaper rates than regular glider pilots, making this a great time to learn to fly. We fly from Shalbourne on most weekends when the weather is right. In addition to our weekly flying, where we hope that as many members as possible will endeavour to progress to their first solo flight and beyond, we also aim to run at least three expeditions to other gliding sites in the UK. All airfields are different and offer opportunities to experience other types of flying which aren't possible from our home club, so we really think that this is a great way to progress and enjoy this amazing sport!
What is Gliding?
Gliding involves flying unpowered aircraft using the same naturally occurring currents of air that birds use to fly. Using these invisible currents of air, you can soar to great heights and travel great distances around the country at average speeds of over 100 miles per hour. Gliders are similar to normal aircraft, just without an engine. We exploit rising air in the atmosphere to stay airborne – at least that's the idea! People glide for many reasons. Some even use it as a stepping stone to a full pilot's licence.
If you are interested in joining, we recommend you first purchase an introductory Flight to get a taste of gliding without the commitment of buying a full membership. If you enjoy yourself and decide to join, you can then convert to a full membership by just paying the difference!  
Introductory Flights
Sign up for an introductory flight with SUGC and get to experience an exhilarating winch launch and amazing views from the air. You will even get the chance to control the aircraft yourself! Anyone can sign up to try out the cheapest way of flying, and it's also a great opportunity to see how a gliding airfield works and operates. The package will include one flight of up to 30min (or 2 launches if the 30min duration is not possible) and will cost a total of £62. Head over to the "Membership" tab to buy the package and get started!
How we operate:
Transport: We go gliding at Shalbourne Gliding Club (which is about 45min drive from Southampton) and it is only realistically accessible by car. Currently, a few of us have cars and can take up to 4 additional people on a given day.
Days and Weather: Shalbourne Gliding Club is open on Wednesdays and during the weekend. You just need to sign up on the website and if you get selected, we will send a confirmation email on Thursday or Friday inviting our members to join us if the weather conditions allow it.
On the day: Gliding is a whole day event. We leave Southampton at 8 am and get there for around 8.45 am. Usually, the first two hours are spent prepping the field and checking the gliders. Then we can go gliding, which could last until 7:00 pm (if the weather is good). During the day we are kept busy by helping to run the airfield. Usually, pre-solo members would get 3 flights on the day, with each flight lasting about 15 minutes. Although, on a good day, a flight could last up to 1 hour. Finally, the last hour is spent putting the gliders and airfield equipment away. 
Safety: Gliding in general has an excellent safety record when compared to other extreme sports. As a club, we would like to maintain this safety record so please consider the following before you come flying with us: 
Alcohol: Please do not any drink alcohol at least 12 hours before you are due to fly.
Weight: For safety, all gliders have an upper limit for their pilots. This means we unfortunately cannot take anyone flying if they weigh over 103kg.
Airfield: Please remember that this is an active airfield and be aware of your surroundings. Most importantly always check with somebody before walking or driving across the airfield.
Memberships: If you have purchased an introductory flight, you can convert to a full membership for only £16. For those wishing to join directly, our annual membership is £78*, which goes towards covering the flying insurance and maintenance of the aircraft.
Costs: Members pay for each of their flights depending on their duration. Winch launching costs £9 per launch and 32p/min for any airtime after 15mins (This is subsided by the club). These costs include the cost of the instructor and the training.  Finally, we ask attendees to contribute £5 towards the fuel costs of the driver. 
Competitions and Trips: We organise regular trips to other airfields around the country and participate in Junior competitions. Last year we even managed to win the Inter-University Gliding competition!
*Memberships for over 26-year-olds are more expensive as they do not benefit from the British Gliding Association Junior discount. In this case, the membership costs £95 and the rates are £10 per launch and 35p/min for any airtime after 15mins. 
If you have any questions don't hesitate to email us at: gliding@soton.ac.uk or find us on Facebook at: https://www.facebook.com/sugliding
Photo Gallery













The Committee
All clubs and societies within the Students' Union are run entirely by students. The student committee for Gliding this year are:
Louis Hall
Aircraft Officer
J Michael Tennant
Captain
Hemanth Ramkumar
Operation Manager
Robert Harpur
Secretary
Cyprien Camaly
Social Secretary
Nikolay Ulybin
Treasurer
Hermione Starey
Vice Captain
Callum Gilchrist
Webmaster
You May Also Like...
Here are a selection of similar clubs and societies that you may also be interested in
Membership Information
These are the current membership fees offered by Gliding, although many clubs and societies offer a free period for new members to try out their activities.
| Name | Cost | Valid Period | Details | |
| --- | --- | --- | --- | --- |
| Expression of Interest | FREE | 15/09/2023 - 15/09/2024 | SUGC is dedicated to sharing the experience of flying with as many people as possible. Express your interest in joining the club by signing up with this membership option. | |
| Full 1 Year Membership (Under 26's) | £78.00 | 21/09/2023 - 24/09/2024 | A full 1 year membership (under 26's) for those who wish to progress their gliding skill, qualifications, and take part in competitive events. See the main page for more details. | |
| Full 1 year Membership (Over 26's) | £95.00 | 21/09/2023 - 24/09/2024 | A full 1 year membership (over 26's) for those who wish to progress their gliding skill, qualifications, and take part in competitive events. See the main page for more details. Those over the age of 26 must select this option for full membership. | |
Constitution
All SUSU clubs & societies must have a Constitution which governs how they run
Download Constitution
Health & Safety
All clubs & societies are required to risk assess their activity to ensure it is carried out in a safe manner for members. Current risk assessments for Gliding are available to view below