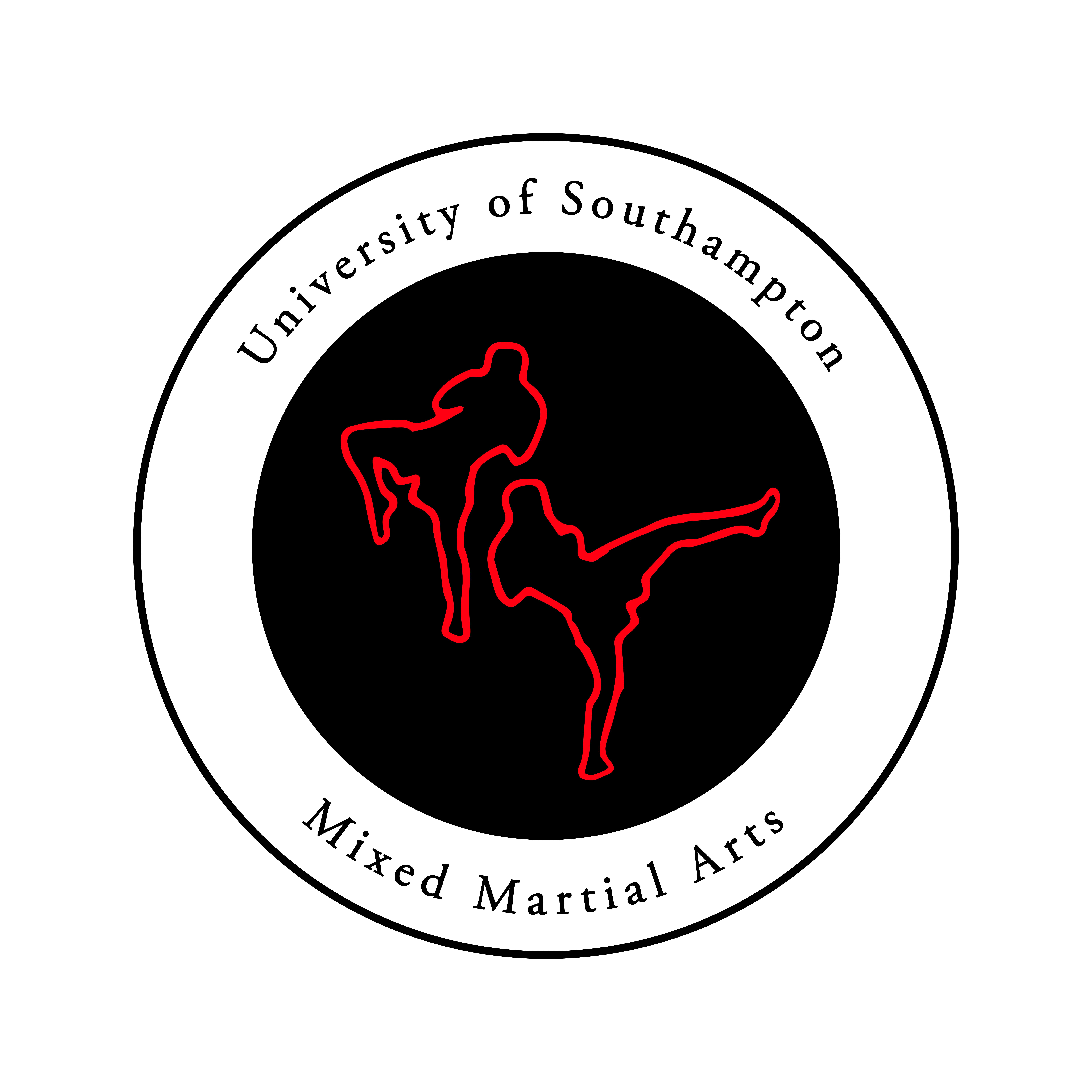 Whether you're looking to learn self-defence, boost your confidence, get fit or learn to fight, we have it all! Mixed Martial Arts is a brilliant way to hone your skills and meet new people. We specialise in Muay Thai and Brazilian Jiu-Jitsu, with additional wrestling and MMA classes. We're a friendly and sociable club always who are willing to take on people of any skill level, from beginner to seasoned professional. Please don't feel intimidated if it's your first time, our lovely committee are always on hand to help out! If you have any questions, don't hesitate to contact a member of the committee through our Facebook page.
Southampton University Mixed Martial Arts (SUMMA) is a friendly and welcoming community of students with a passion for fitness, self-defence and fun!
We are accessible to all skill levels, from total beginners to seasoned professionals - we have a wide range of people from all backgrounds and levels of experience.
We teach a variety of martial arts - from the punches and kicks of Muay Thai to the groundwork of Brazilian Jiu-Jitsu, we have it all. We run a free women's only self-defence session every Thursday to empower women with techniques that may save their lives, and Sunday wrestling/MMA classes which are taught by professional MMA fighter, Bryony Tyrell every other week.
MMA can be as much or as little as you like - with 7 available training sessions per week, you can come and get involved in 1 or 2, a few more or even all 7!
A Bit About Us
We're a really friendly and welcoming club, so please don't feel intimidated and come and give our amazing sport a try. We have regular socials and plenty of opportunities to meet and get to know the people in the club. (Due to COVID in person meet ups may not be possible, however we are working hard to host several online events, including games nights, drinking games, UFC screenings and more!)
Our committee are here for you, so if you have any questions please message a member of the committee through the Facebook page and we'll do our best to help.
We are home to some amazing coaches, including professional MMA fighter Bryony Tyrell and Daniel Victor-Bourne of Exile MMA, and regularly compete in Kickboxing, Muay Thai, BJJ and MMA interclubs across the country. We even host our own fight night, the Southampton Showdown, where competitors across the country come to compete in a kickboxing/muay thai match up.
Check out the videos of last years event here: https://www.youtube.com/playlist?list=PLK1HUNgVUZLrefreP59Ytyqj-NJWMou5G
What Martial Arts do you teach?
-Muay Thai-
Muay Thai is a striking martial art using fists, elbows, knees and shins, and is widely considered the best striking martial art in the world. Our sessions are accessible to everyone whether you're a total beginner or an advanced fighter, so don't hesitate to come and give them a try. Thai Boxing techniques have seen great success in Mixed Martial Arts recently, namely in the UFC, and it's a really fun way to meet new people and let off some steam.
-Brazilian Jiu-Jitsu-
Brazilian Jiu-Jitsu is a grappling martial art, focused on leverage and technique, allowing smaller practitioners to overcome bigger and stronger opponents. A wide variety of grappling techniques are taught, such as joint locks and choke holds.
-Self-defence-
We have women's only Self-Defence classes using the techniques of both Muay Thai and BJJ for girls interested in learning about self-defence, or looking to get into grappling in a female-dominated environment.
-Wrestling/MMA-
We put it all together in our weekly sessions where we learn important takedowns, submissions, pins and striking techniques MMA fighters use. Our sessions are coached by Bryony Tyrell, professional women's MMA fighter, and feature some killer techniques to really flesh out your skillset.
--- TRAINING TIMES:
SIGN UP TO SESSIONS HERE: https://docs.google.com/spreadsheets/d/1UtYNTrQJ-IGwJMD_5MMBF2ov4zSVR4nGdHWR6XopUc0/edit?usp=drivesdk
For sessions marked *, you will need to have Sports and Wellbeing membership. You can get the Sports Pass for free from here: https://www.southampton.ac.uk/sportandwellbeing/membership/index.page.
Please sign up to * sessions on the UoS sport app here: https://www.southampton.ac.uk/sportandwellbeing/news/2020/09/uos-sport-app.page.
MONDAY: 5-7pm - Muay Thai in Glen Eyre Hall with our coach, Daniel Victor-Bourne.
MONDAY: 7.30- 9.30 - BJJ sessions in Glen Eyre Hall with our student coaches.
*WEDNESDAY: 8-10pm - Open Mat in the Martial Arts Room (B42) - this session is not taught and is for members to come and practice whatever they like.
*TUESDAY 5-6.45pm : Womens self defense classes in the Martial Arts Room. (Subject to demand - if not enough people sign up these will not run and will be open mat instead but our committee will always be willing to help individuals with self defense)
*FRIDAY: 6.30- 9pm - BJJ in the Martial Arts Room with our coach Dylan Young
SATURDAY: 12-2pm - Muay Thai/MMA sessions at Exile Gym, Shirley (SO15 5LL) with our student coaches
*SUNDAY: 3.30-5.30pm - MMA/wrestling sessions in the Martial Arts Room (B42) - taught by professional MMA fighter Bryony Tyrell or our student coaches every other week.
--- Get in touch! ---
Join our Facebook group for all the information you'll need about tasters, socials and training times, and get in contact through our social media!
Facebook group: https://www.facebook.com/groups/49654518883/
Facebook page:
Instagram: https://www.instagram.com/summa_club/
YouTube: https://www.youtube.com/channel/UCmM-MTKaPt6tQxpmCOnXyHw
What are you waiting for? Come and get involved! :D
Photo Gallery
The Committee
All clubs and societies within the Students' Union are run entirely by students. The student committee for Mixed Martial Arts (MMA) this year are:
Jack MacKellar
Grappling Captain
Andrei Andries
Health & Safety
Niveditha Poolla
Kit Sec
Calvin Tan
Media & Marketing
Lucy Steadman
President
Michael Panong
Secretary
Alex Calver
Social Sec
Peter Langlois
Striking Captain
Zoe Simeonides
Treasurer
Daniel Callaghan
Vice-President
Fariha Nuzhat
Women's Captain
Robert Crupa
Wrestling Captain
You May Also Like...
Here are a selection of similar clubs and societies that you may also be interested in
Membership Information
There is currently no information about membership fees available
Constitution
All SUSU clubs & societies must have a Constitution which governs how they run
Download Constitution
Health & Safety
All clubs & societies are required to risk assess their activity to ensure it is carried out in a safe manner for members. Current risk assessments for Mixed Martial Arts (MMA) are available to view below