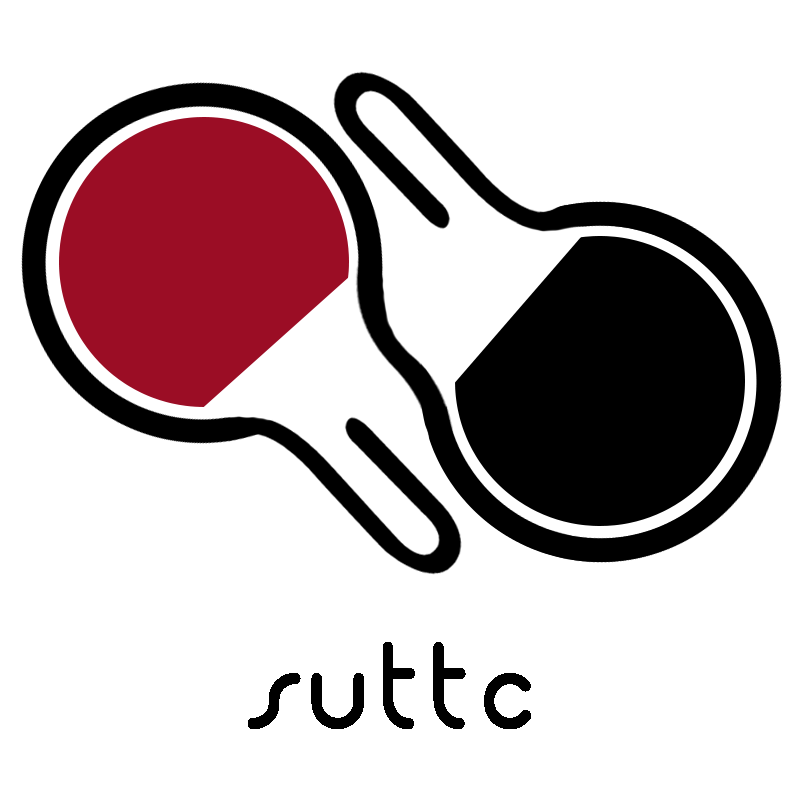 Table Tennis
Come down to try out table tennis - it's a great way to meet new people! We welcome everyone, whether it be your first time picking up a racket or if you're a seasoned professional, we'll be sure to have someone for you to play against.
You're welcome to bring friends along too to finally settle who's better at table tennis. We will provide all equipment so make sure not to miss out! For more info, updates, pictures and videos, like us on Facebook: https://www.facebook.com/suttctabletennis/.
---
About Table Tennis
Every Sunday between 12:00 and 14:00, we have our "Recreational Session" where players of all abilities are welcome. This session is for doing anything you like which could range between having a knock-around to having a self-training session. This session is held in The Cube where we can get up to 8 tables out.
Every Saturday, we run a "Development Session" which are training sessions where members of the team coach recreational players to help improve certain table tennis skills and techniques. It begins with a proper warm up followed by drills and multiball. The time of these sessions are 20:00 until 22:00 and it is in the Activities Room which can only accommodate 4 tables (unfortunately).
Both the above sessions are open to all levels of experience and we are always looking for new members.
We also have two Men's teams and two Women's teams in the BUCS league which is an inter-university league. Matches for this league are always played on a Wednesday afternoon. For the team, we run a weekly "Training Session" coached by one of the best Level 3 coaches in Hampshire. Annually, we have a weekend away to the University of Nottingham to compete in the BUCS Nationals Individual Championships. Team training is invite-only and will typically be on Sundays between 10:00 and 12:00 in The Cube, though times may change due to our coach's availability.
Socials are on a regular basis so be sure to like our Facebook page (https://www.facebook.com/suttctabletennis/) to find out more!
Finally, we want to stress that you do NOT need Sport & Wellbeing membership to be part of SUTTC, saving at least £110. The membership prices are stated below in the Membership Fee Information section.
If you have any questions please don't hesitate to contact us. Contact via the Facebook page is preferable over our society email, as you will receive a faster response than via the society email.
ONE-OFF EVENTS:
Taster Session (29th September 2018): https://www.facebook.com/events/2395145790526184/
First Social (5th October 2018): https://www.facebook.com/events/2211147599170926/
Trials (13th October 2018): https://www.facebook.com/events/149150609363841/
---
Membership Fee Information
These are the current membership fees offered by Table Tennis, although many clubs and societies offer a free period for new members to try out their activities.
| Name | Cost | Valid Period | Details | Join |
| --- | --- | --- | --- | --- |
| SUTTC Recreational Semester 1 Membership | £20 | 30/09/2019 - 25/01/2020 | SUTTC Recreational Semester 1 Membership allows the member to come to our Recreational Sessions and Development Sessions as frequently as they wish in Semester 1. During the Recreational Session, you are free to do whatever you want; whether that be to play games or to do intense training. The Development Session is a brand new session introduced last year where Recreational Members are coached weekly by our Coaching Officer, James, who has a UKCC Level 1 qualification. Bats and balls are provided free-of-charge for both these sessions. Finally, being a Recreational Member means you get notifications about all of our social events and days out which are not to be missed. Be part of this rapidly-growing society and you'll be sure to make friends from all around the world! | |
| SUTTC Recreational Year Membership | £30 | 28/09/2019 - 27/09/2020 | SUTTC Recreational Year Membership allows the member to come to our Recreational Sessions and Development Sessions as frequently as they wish throughout the year. During the Recreational Session, you are free to do whatever you want; whether that be to play games or to do intense training. The Development Session is a new session introduced 2 years ago where Recreational Members are coached weekly by our Coaching Officer, James, who has a UKCC Level 1 qualification (and now working on Level 2). Bats and balls are provided free-of-charge for both these sessions. Finally, being a Recreational Member means your get notifications about all of our social events and days out which are not to be missed. Be part of this rapidly-growing society and you'll be sure to make friends from all around the world! | |
| SUTTC Team Year Membership (Invitation Only) | £60 | 28/09/2019 - 27/09/2020 | SUTTC Team Year Membership allows the member to come to our Recreational Sessions and Training Sessions as frequently as they wish. During the Recreational Session, you are free to do whatever you want; whether that be to play games or to do intense training. The Training Sessions are coached weekly by one of the best coaches in Hampshire, Charlie Childs, who has a UKCC Level 3 qualification and is currently Deputy Chair of Table Tennis England. Being on the team means that you can represent the University of Southampton in our weekly BUCS matches against other universities. The travel costs to these matches are covered by the Team Membership costs. If you are good enough, there will also be opportunities to play in BUCS Nationals which is an annual national tournament amongst all UK university teams. This cost of this is partially subsidised by the our university. Finally, being a Team Member means you get notifications about all of our social events and days out which are not to be missed. Be part of this rapidly-growing society and you'll be sure to make friends from all around the world! | |
| SUTTC Recreational Semester 2 Membership | £20 | 27/01/2020 - 13/06/2020 | SUTTC Recreational Semester 2 Membership allows the member to come to our Recreational Sessions and Development Sessions as frequently as they wish in Semester 2. During the Recreational Session, you are free to do whatever you want; whether that be to play games or to do intense training. The Development Session is a brand new session introduced last year where Recreational Members are coached weekly by our Coaching Officer, James, who has a UKCC Level 1 qualification. Bats and balls are provided free-of-charge for both these sessions. Finally, being a Recreational Member means you get notifications about all of our social events and days out which are not to be missed. Be part of this rapidly-growing society and you'll be sure to make friends from all around the world! | |
Photo Gallery
---
The Committee
All clubs and societies within the Students' Union are run entirely by students. The student committee for Table Tennis this year are:
James Ellicott
Coaching Officer
Joseph Bourgaize
Communications Officer
Alexander Lane
Health & Safety
Hugo Pang
Men's Captain
Matthew Smith
Men's Vice Captain
Garvin Yim
President
Hristo Mladenov
Recreational Officer
Joseph Bourgaize
Social Secretary
Melika Azhdari Shirazian
Social Secretary
Alexander Lane
Treasurer
Mazen Ahmed
Vice President
Yanjie Zhao
Welfare Officer
Wing Leung
Women's Captain
Melika Azhdari Shirazian
Women's Vice Captain