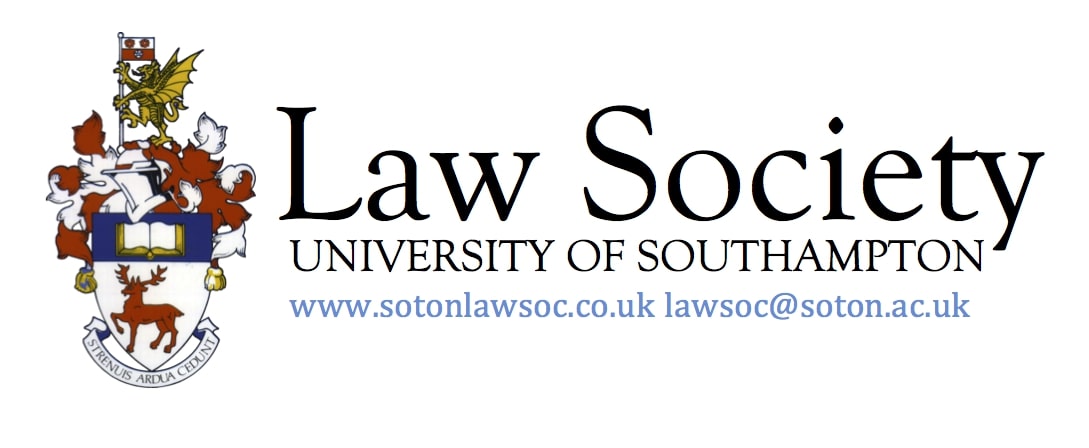 Welcome to the University of Southampton Law Society! The society is extremely proud to partner with a number of national and international law firms in order to provide bespoke careers opportunities to its members; hosting law firm presentations, offering application guidance and providing members with a chance to meet with firms at our inclusive networking sessions.
At the Law Society of the University of Southampton, our mission is to create a society which supports students alongside their study of law. We understand that doing a law degree and getting into the legal career can be a daunting prospect, but we are here to be your opportunity to relax with fellow law students and grow your understanding of the legal sector.
We have career and networking opportunities, such as our headshot event and LinkedIn workshop, alongside skills development sessions, such as our commercial awareness discussions, which will not only help our members in their future legal careers, but also help non-law members in their chosen careers.
Alongside this, we have various social events such as the glamourous Winter Ball and Summer Boat Ball, Pub Quizzes and more. We also have a netball team as well as an upcoming football team which is a great opportunity to stay active and get to know other members of the society.
To find out more, you can email us, check out our website or follow us on social media!
The Committee
All clubs and societies within the Students' Union are run entirely by students. The student committee for Law Society this year are:
Rebecca Hayward
Commercial Awareness Officer
Erin Guizot
Communications Officer
Jasmine Yusuf
Diversity & Inclusion Officer
Mihika Chopra
First Year Representative
Lucy Crouch
Marketing Officer
Darja Scerbinina
Negotiation Officer
Arjun Korpal
Non-Law Representative
Nicholas Holt
President
Lola-Rae Quinn
Secretary
Miah Whittle
Social Secretary
Leah Mulvihill
Sport & Welfare Officer
Alexandros Sophocleous
Sport & Welfare Officer
Holly Cunniah
Treasurer
Eva-Mae Eighteen
Vice-President
You May Also Like...
Here are a selection of similar clubs and societies that you may also be interested in
Membership Information
These are the current membership fees offered by Law Society, although many clubs and societies offer a free period for new members to try out their activities.
| Name | Cost | Valid Period | Details | |
| --- | --- | --- | --- | --- |
| 1-Year Membership | £10.00 | 24/09/2022 - 30/06/2023 | 1 Year-Membership to Law Society | |
| 2-Year Membership | £20.00 | 24/09/2022 - 30/06/2024 | 2-Year Membership to Law Society | |
| 3-Year Membership | £30.00 | 24/09/2022 - 30/06/2025 | 3-Year Membership to Law Society | |
| 1-Year Membership (Joint with Bar Society) | £15.00 | 24/09/2022 - 30/06/2023 | 1-Year Membership to both Law Society and Bar Society | |
| 2-Year Membership (Joint with Bar Society) | £25.00 | 24/09/2022 - 30/06/2024 | 2-Year Membership to both Law Society and Bar Society | |
| 3-Year Membership (Joint with Bar Society) | £35.00 | 24/09/2022 - 30/06/2025 | 3-Year Membership to both Law Society and Bar Society | |
Constitution
All SUSU clubs & societies must have a Constitution which governs how they run
Download Constitution
Health & Safety
All clubs & societies are required to risk assess their activity to ensure it is carried out in a safe manner for members. Current risk assessments for Law Society are available to view below