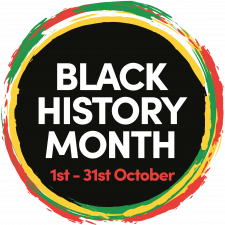 01 – 31 October
Join us as we celebrate and learn
Black History Month takes place every October in the UK; join SUSU as we celebrate and learn throughout this month. 
The national theme for 2023 is Celebrate Our Sisters: an opportunity to recognise and celebrate the exceptional achievements of Black women.
#WEMATTER
This year the national theme for Black History Month is Celebrate Our Sisters: an opportunity to recognise and celebrate the exceptional achievements of Black women.
#WEMATTER
Nakieah May, Criminology and Psychology student and member of ACS, has shared a blog with us this Black History Month on loving your natural afro hair.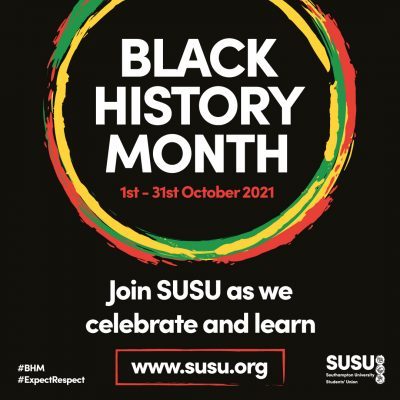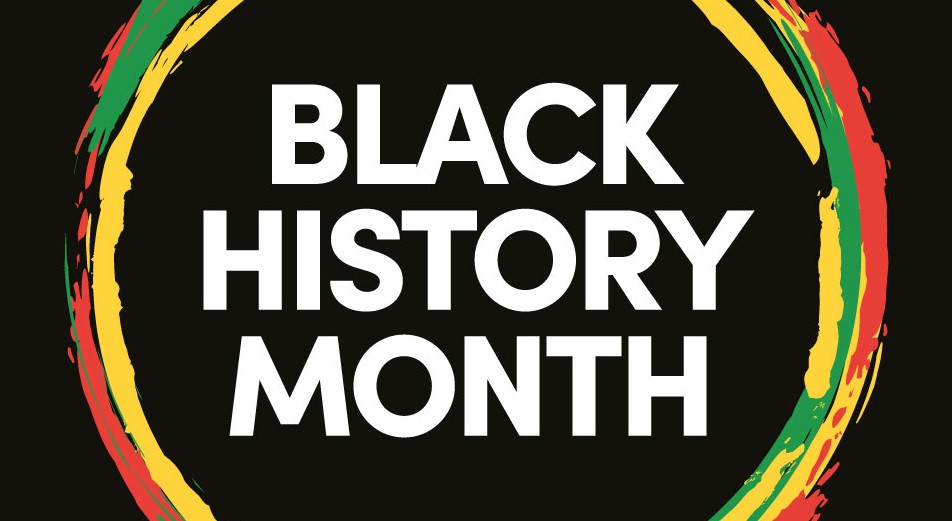 Black History Month Cultural Celebration
Thursday 19 October, 15:00 - 19:00
Redbrick area and SUSU Building 42

Come along to an afternoon of food and drink, art and music to celebrate Black culture!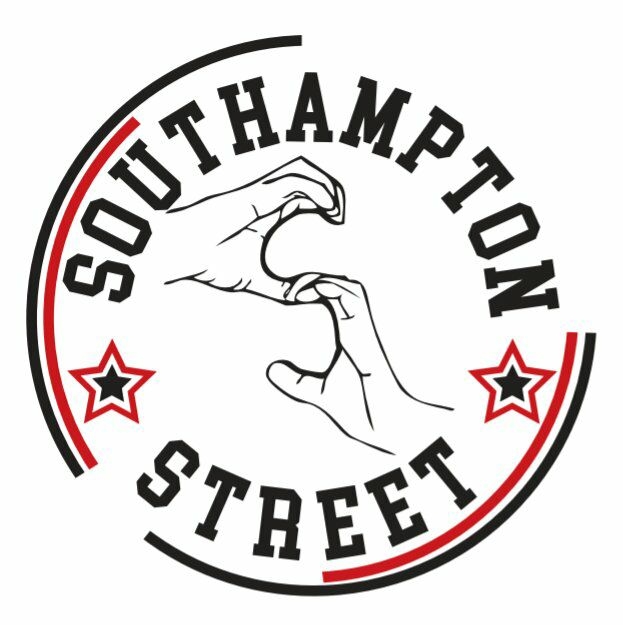 Afro Dance Classes: Street Dance Society
Wednesday 11 and Wednesday 25 October, 16:00 - 17:00
Multi-Purpose Studio (MPS), B42

Street Dance Society are holding Afro Dance classes for all throughout Black History Month. Make sure to come along to celebrate and learn a new dance style, or develop your skill for this allready!

Sign ups will be via @USDstreet On Instagram the Monday before class.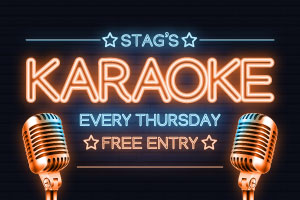 Black History Month Stag's Karaoke
Thursday 19 October, 19:00 - 01:00
The Stag's

Get ready to sing your heart out to some karaoke classics! This week to celebrate Black History Month come along and sing a song by a popular Black artist for the chance to win a prize.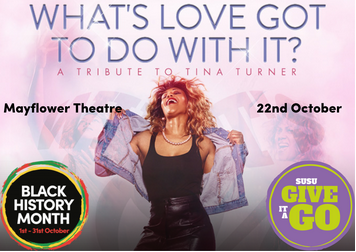 Give It A Go: "What's Love Got To Do With It?"
Sunday 22 October, 19:00 - 21:00
Mayflower Theatre

Join us for a night of high-energy rock-and-roll with Holly Bannis, backed by a 10-piece live band, performing Tina Turner's greatest hits. From Private Dancer to Proud Mary, it's a musical journey you won't want to miss. Presented by Cuffe and Taylor in association with Paul Roberts Productions, this is your chance to celebrate Black history through the magic of Tina's music.

Tickets £15.00 when booked via SUSU. Tickets will be on sale soon.
Your ticket will be a balcony view worth up to £29.00.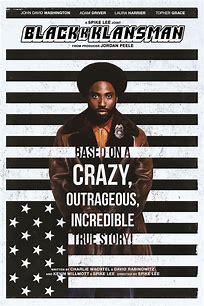 Union Films: "BlacKkKlansman"
Friday 13 October, 20:00 - 22:00
Union Films (Level 3, B42)

Union Films are showing BlacKkKlansman for free this Black History Month, in collaboration with African and Caribbean Society.

"Ron Stallworth, an African-American detective, embarks on a mission to infiltrate his town's chapter of the Ku Klux Klan, a white supremacist hate group."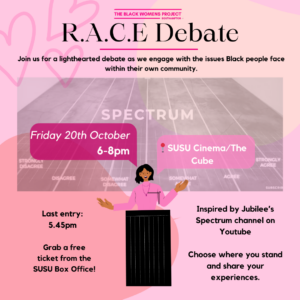 Black Women's Project R.A.C.E Debate
Friday 20 October, 18:00 - 20:00
The Cube (Level 3, B42)

Join the Black Women's Project for a lighthearted debate as we engage with the issues Black people face within their own community.

Audience members can take part in polls, then volunteers will be invited on stage to discuss their viewpoint.

Free event, booking required.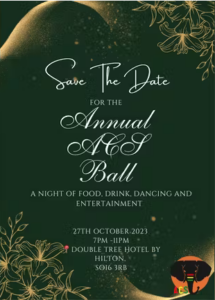 ACS Ball
Friday 27 October, 19:00 - 23:00
DoubleTree by Hilton, Southampton

Join African and Caribbean Society for their annual Ball! There will be food, drinks, entertainment and much more. The dress code is black tie.

Tickets now on sale for £17.00.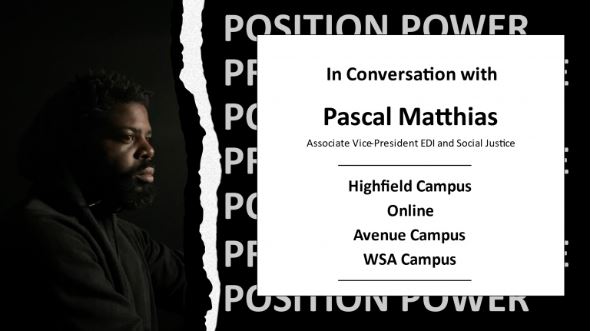 In conversation with Pascal Matthias
Tuesday 16 May, 11:00-12:00, Highfield Campus

Monday 03 July, 14:00-15:00, MS Teams

Thursday 12 October, 15:00-16:00, Winchester School of Art

Tuesday 07 November, 10:00-11:00, Avenue Campus

Join Pascal Matthias, the University of Southampton's new Associate Vice-President EDI and Social Justice, to continue the discussion through a series of open, informal, semi structured conversations. This series provides a space to listen and to talk, as we come together to reflect on how we are making progress in becoming a more diverse and inclusive community, and where more still needs to be done.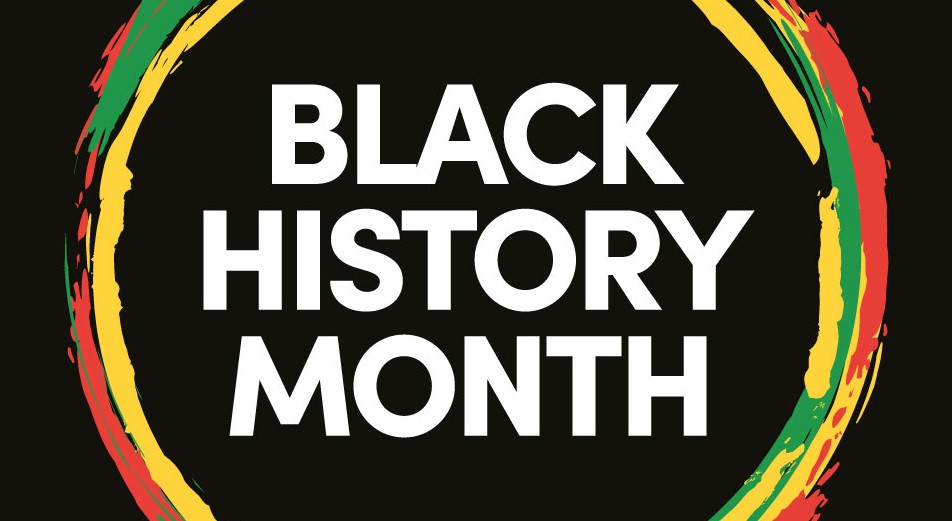 Saluting Our Sisters and Celebrating Women of Colour
Thursday 12 October, 19:30 – 21:00,
Southampton Central Library

Simon returns to Southampton to introduce us to pioneering women of colour, their stories, achievements and influence.

Taking highlights from his books History Through the Black Experience, Simon will explore intriguing stories honouring the significant achievements of women of colour, that have often been overlooked but are now being discovered and celebrated.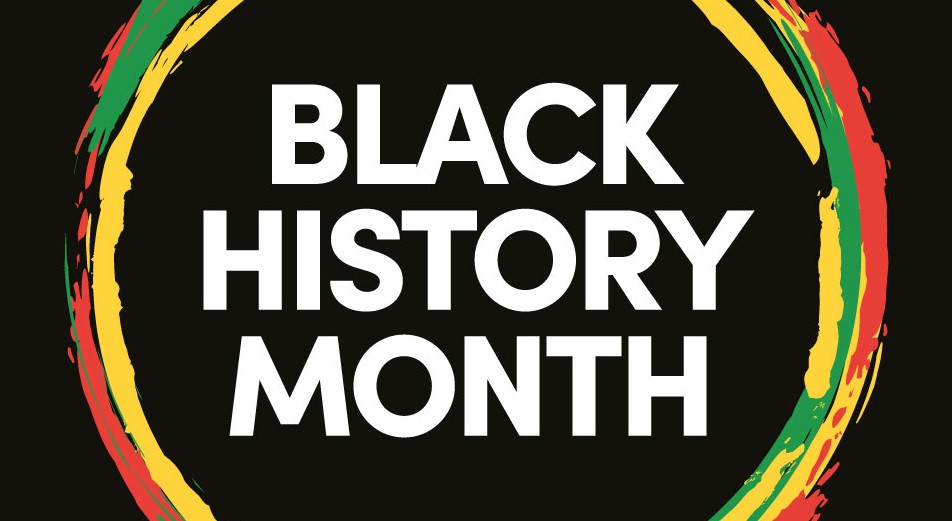 Black History Month Poetry Competition
This national competition hosted by Black History Month UK is an opportunity to learn about and celebrate Black women who have made significant contributions in various fields.

You can submit a poem about a pioneering Black woman who has made an impact in their chosen field, explaining why she is an inspiration to you. Remember, the poems don't have to be about famous people; they can be about members of your family, women who have inspired you in your community, or even about you and your experiences as a woman or young person. Get creative and have fun with it!

The competition will be judged by a panel of experts in literature and poetry, with winners announced on World Poetry Day on 21 March 2024. Your deadline to enter is Wednesday 15 November 2023.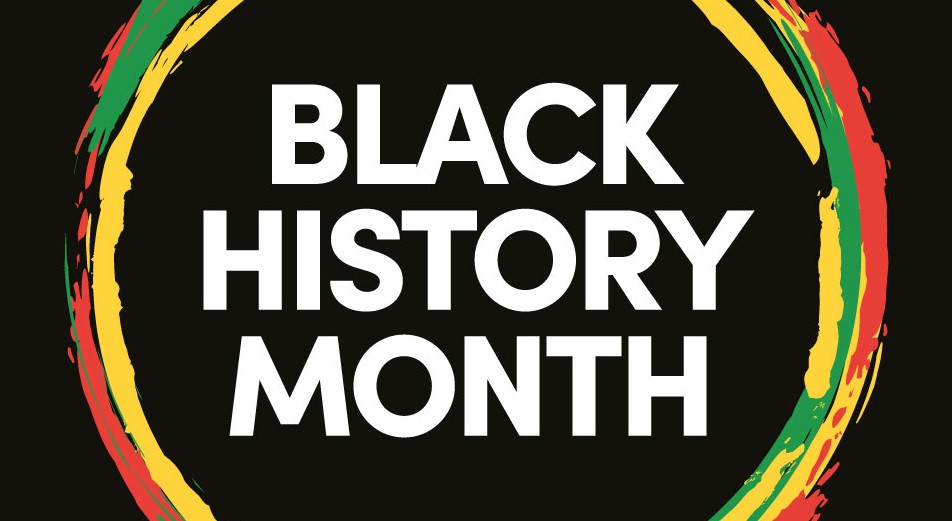 Black History Month Giant Journal
Available 01 - 31 October, Level 4 SUSU Building 42

Our 'Giant Journal' is a place for the Black community at Southampton and their allies to share who inspires them as well as their stories.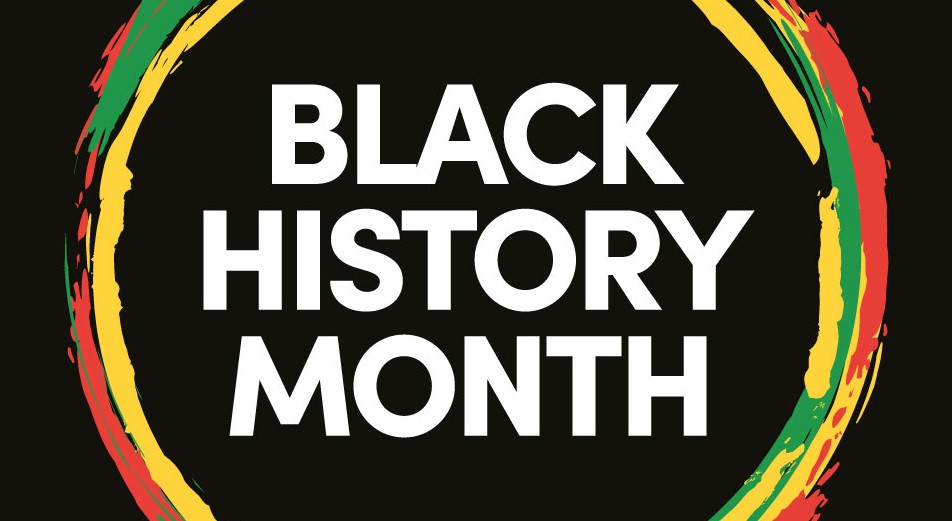 Black Women in Health
Wednesday 11 October, 18:00 - 20:00
Centenary Building, Highfield Campus

Join Dr Ria Clarke, Priscilla Vivian and Esmé Ara'resa discuss their experiences navigating the healthcare system and their work to improve healthcare for Black women.

Don't miss this chance to be part of a movement that recognizes and celebrates the immense contributions of Black women in health. The evening is free to attend and welcome to all!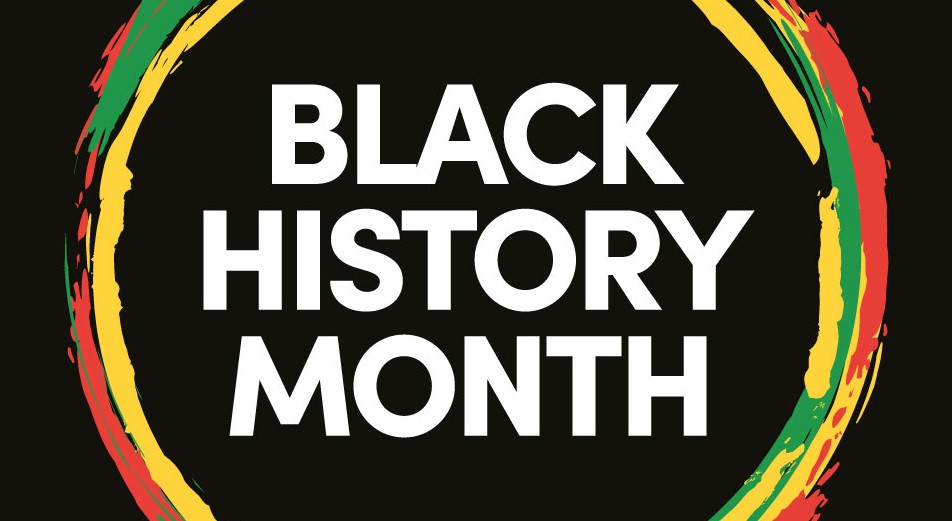 Black Talent in Business and Leadership
Wednesday 18 October, 18:00 - 20:00
Location TBC

Hosted by Avila Chidume, founder of inclusive greetings cards business Avila.Diana, hear from a panel of Black entrepreneurs, freelancers and start-up founders who share their journeys into business.

Learn from the challenges they faced and how these were overcome, plus top tips for anyone who is looking to follow in their footsteps. The evening is free to attend and welcome to all!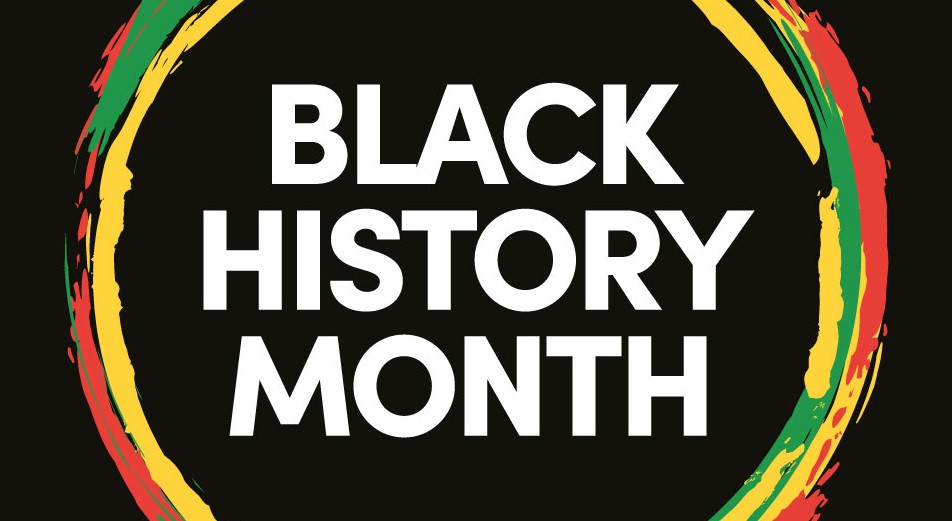 In Conversation with poet Kaycee Hill
Tuesday 24 October, 18:00 - 19:30
Sir James Matthews Building, Guildhall Square

Join us for a special evening with James Berry Poetry Prize winner, Kaycee Hill, as she tells us about her creative journey and some of her works.

Raised on poetry from outside of the canon, from lyricists such as Lauren Hill, Floetry and Sade, as well as dub poets like Lillian Allan and Benjamin Zephaniah. Kaycee's poetry looks at eco-poetics, exploring the female body and the intricacies of growing up in an urban pastoral landscape.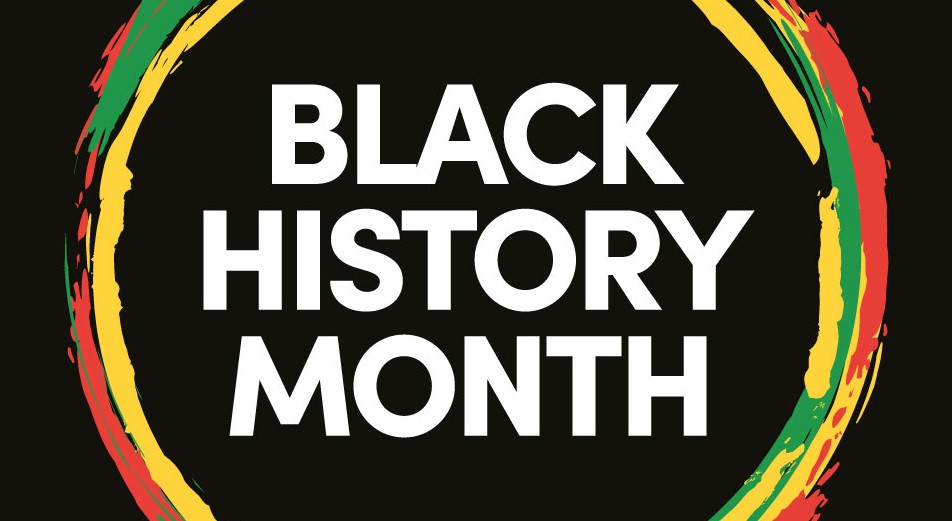 Black Girl Detox with Toluwa Atilade
Thursday 26 October, 18:00 - 20:00
The Design Chapel

The Awarding Gap Project is pleased to invite you to Black Girl Detox, a workshop for Black Women and allies, created by Toluwa Atilade.

Through a sip n' paint workshop, explore Black Womanhood, meet like-minded people and relax. There will be refreshments and pizza available throughout the evening. Make sure to secure your tickets & tell a friend!
'Say My Name' is a campaign based on pronouncing names respectfully and appropriately. During the month of Black History Month 2023, we used this campaign to focus specifically on Black names, their pronunciation, their importance and their meanings.
After consulting with students, we understood that not being addressed by your name and having people avoid attempting to pronounce it is demoralising. Equally, people may withdraw from settings and feel alienated from what is going on around them if they are referred to by a different name or their name is mispronounced. We'll be launching this campaign to raise awareness of this and highlight that we should be pronouncing names respectfully and appropriately.
2:32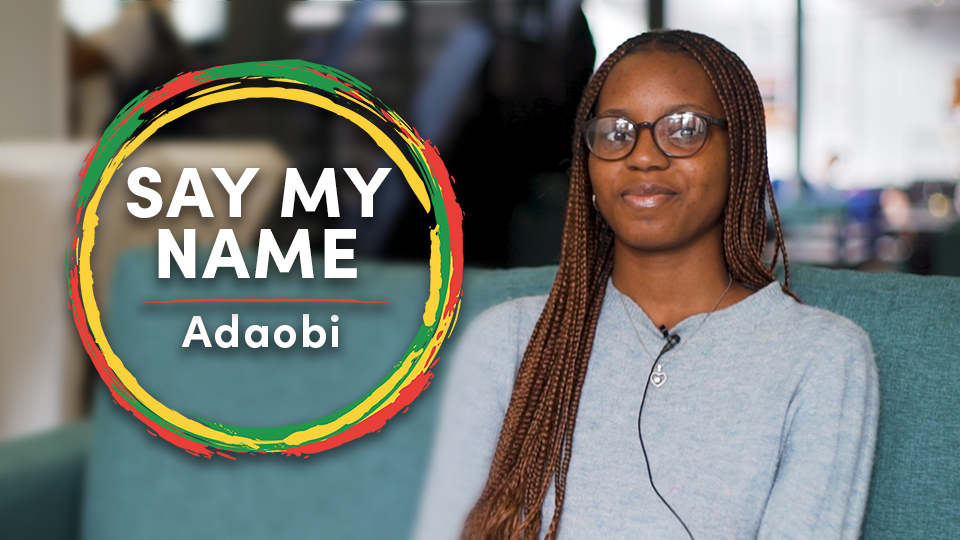 1:50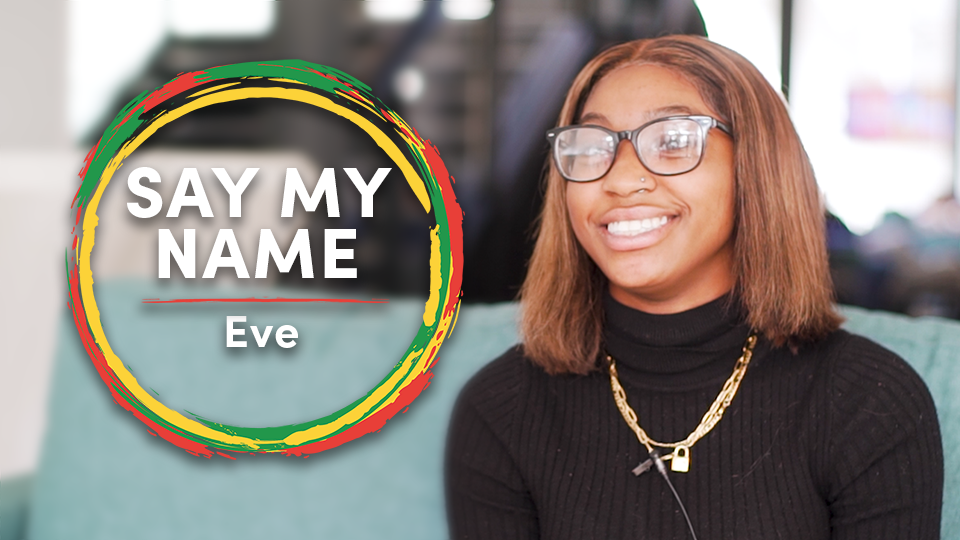 1:13
In our Black Student Voices four-part series we spoke to students about their experiences at university and the importance of representation.