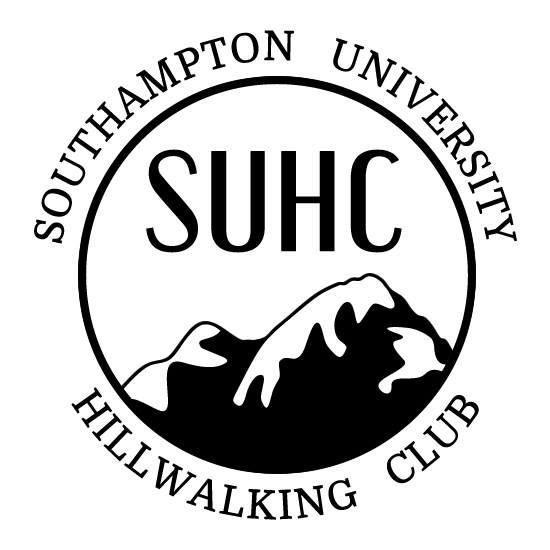 Hillwalking
At SUHC we are dedicated to exploring the very best countryside, peaks, mountains and coastline the UK has to offer. We host weekly Saturday day walks throughout Hampshire and surrounding areas, in addition to whole-weekend away trips to different national parks and mountainous regions, and an array of socials during term time! See below for details of our activities and how you can get involved...
---
About Hillwalking
Whether you're already passionate about the outdoors or just simply curious, we offer something for everyone. Our activities include...
Day Walks: Hosted every Saturday during term time, featuring locations such as Winchester, the Isle of Wight, New Forest, Salisbury, South Downs and Bournemouth. Day walks are FREE to attend and all are welcome; the more the merrier! Only costs include your own personal train ticket and packed lunch. Details of each day walk are posted on our Facebook page and other social media, as well as our email mailing list.
Away Trips: SUHC hosts more than 6 weekend away trips per academic year, including locations such as Snowdonia, the Lake District, Scottish Highlands, Pembrokeshire, Dartmoor, Peak District and other National Parks! Away Trips typically cost less than £60, which is all-inclusive of transport, food and accommodation. Access to away trips requires the initial purchase of a club membership (£20) which lasts the entire academic year.
Expeditions: A new addition to the club aiming to cater for the more adventurous side of the club, and guide aspiring walkers to how they can be improve their hill and mountain skills and become more independent. Activities, include multi-day backpacking, wild-camping and bothy expeditions, winter hillwalking and mountaineering in Scotland, navigation, first-aid and expedition skills training and participation in competitive events.
Socials: Regular weekly social events, including activities such as: karaoke, games nights, cheese and wine evenings, club nights, BBQs, quizzes and bowling- just to name a few! Not to forget our annual Christmas and Easter formals! At SUHC, we are an inclusive club who take pride in offering something for everyone! Most socials are free to attend.
Some socials may require a charge to attend, such as our annual Christmas and Easter Formals. There will be a discount available to all paid club members.
Full academic year membership costs £20, allowing attendance of away trips and discounts on paid socials.
A half-academic year (one semester) membership is available (with the same benefits) at £10.
For more information, follow us on Facebook (www.facebook.com/SotonSUHC), Instagram (@SotonSUHC), Twitter (@SotonSUHC), or send an email (walking@soton.ac.uk).
---
Membership Fee Information
Due to the current COVID-19 situation, paid memberships are not available to purchase until further notice
Photo Gallery
---
The Committee
All clubs and societies within the Students' Union are run entirely by students. The student committee for Hillwalking this year are:
Noah Metcalfe
Away Trip Secretary (1)
Natasha Price
Away Trip Secretary (2)
John Holden
Day Walk Secretary (1)
Thomas Daly
Day Walk Secretary (2)
Mahmoud Mohamed
Expeditions Secretary
Jennifer Alston
President
Eloisa Kattenhorn
Social Secretary (1)
Hannah White
Social Secretary (2)
Ben Baddour
Treasurer
William Heritage
Vice President
---
Health & Safety
All clubs & societies are required to risk assess their activity to ensure it is carried out in a safe manner for members. Current risk assessments for Hillwalking are available to view below