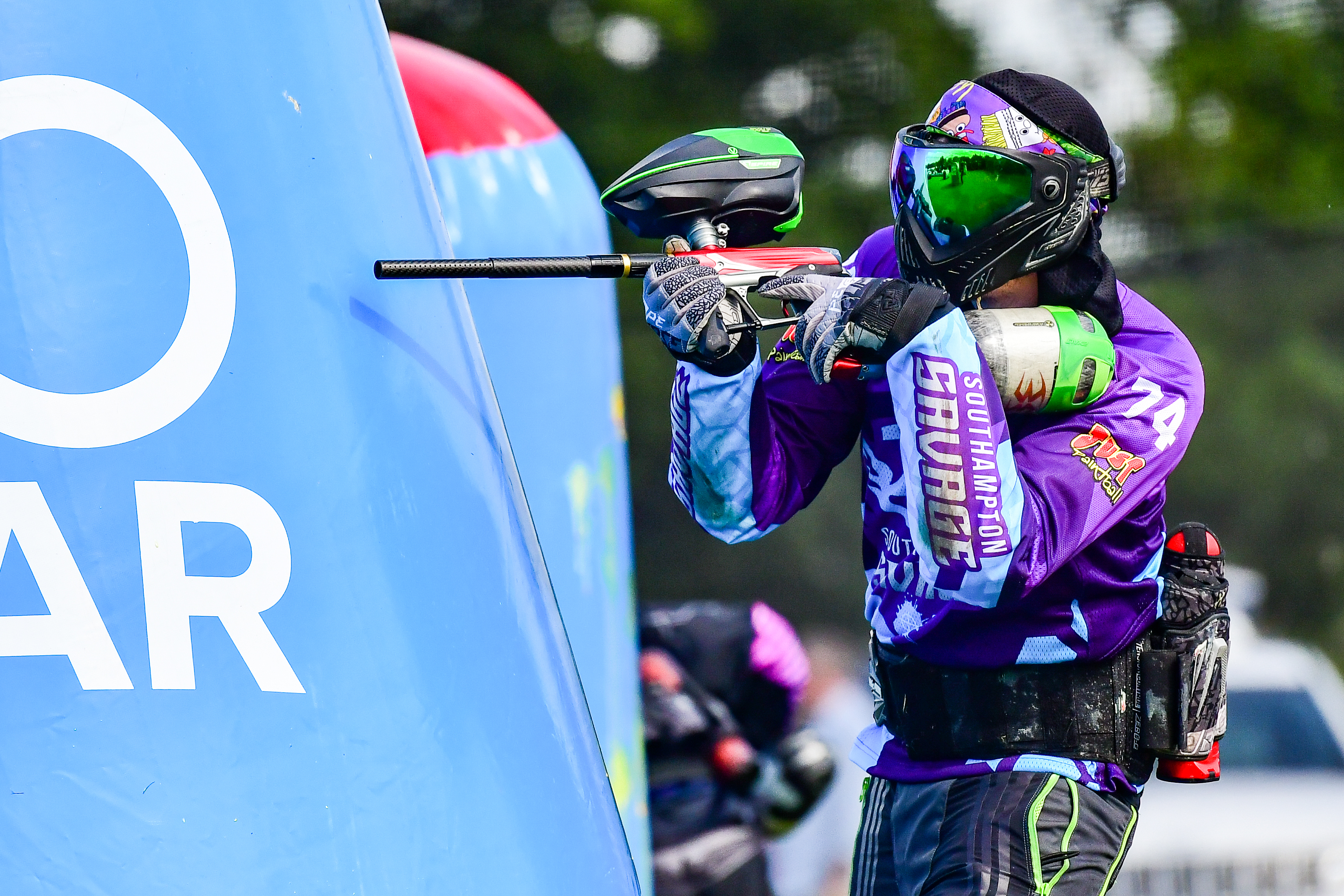 *** CPPS 2022 Round 3 Div 5 2nd Place, Student champs 2017, 3rd place 2018, *** Do you like working as a team, overcoming challenging situations, and being part of a wider inclusive community? Welcome to the wonderful world of paintball, where getting up at 7 in the morning so you can get shot at by strangers is just part of the fun! It's exhilarating, competitive and an amazing unique team experience. The huge adrenaline buzz and sense of achievement when you win a clutch for your team, or close out the last point of a game, is unmatched. Come try it yourself! Join our discord at https://discord.gg/TBEgCTPUZv Our Facebook is https://www.facebook.com/sotonpb/ or https://www.facebook.com/groups/SotonUniPaintballAndAirsoft.
Paintball is a full blown rush of adrenaline, fear, constant challenge and a venture into the unknown. What we do know is that it is a highly competitive, fun, team based sport that will fill you with a sense of accomplishment and it is an awesome accompaniment to your uni life. We play throughout the year, leading up to the main competitive event of the Paintball calendar, the Student Cup. Where the best teams from around the UK universities compete in intense 5v5 games to be crowned the champions. We have finished on the podium for the past 4 years, winning the whole thing once along the way. Come and join our vision, and have the most fun you'll ever have being shot at.
Photo Gallery
The Committee
All clubs and societies within the Students' Union are run entirely by students. The student committee for Paintball this year are:
Theo Smith
Kit Secretary
Callum Doak
President
Mark Towers
Secretary
Freddie Knott
Social Secretary
Rhys Walters
Treasurer
You May Also Like...
Here are a selection of similar clubs and societies that you may also be interested in
Membership Information
These are the current membership fees offered by Paintball, although many clubs and societies offer a free period for new members to try out their activities.
| Name | Cost | Valid Period | Details | |
| --- | --- | --- | --- | --- |
| Year Membership - Airsoft and Paintball | £25.00 | 24/09/2022 - 24/09/2023 | This membership grants you access to both airsoft and paintball events, as well as membership to both UKARA and UKPSF as necessary. This membership last for a calendar year on our records regardless of what the SUSU website says - so you get a full year no matter when you join. | |
| Year Membership | £15.00 | 01/08/2022 - 31/07/2023 | This membership grants you access to our paintball trips all year, as well as UKPSF membership so you can compete in tournaments. This membership last for a calendar year on our records regardless of what the SUSU website says - so you get a full year no matter when you join. Benefits Include: *Access to the society's own top-of-the-range paintball markers and protective clothing (when there is access). *Paintballs at the society's rates - which is ALOT cheaper! (£7 for 500 balls vs Delta force's £10 for 100 balls), not to mention a lot higher quality paintballs than you may have played with in the past. *Allows the member to vote in the AGM. *Automatically enrolls you as a member of the UKPSF, worth £5 in itself, and provides discounts at some venues as well as the ability to compete in national tournaments such as student & societies cup.* Discord Member's Role & Colour. | |
Constitution
All SUSU clubs & societies must have a Constitution which governs how they run
Download Constitution
Health & Safety
All clubs & societies are required to risk assess their activity to ensure it is carried out in a safe manner for members. Current risk assessments for Paintball are available to view below