All Student Vote
All Student Vote on Spring 2023 Industrial Action
On Wednesday 25 January SUSU opened an All Student Vote asking students to vote on whether we should support UCU's upcoming industrial action. The rules for an All Student Vote require 10% of the student body to vote, with 50% + 1 of the votes cast constituting a majority vote.
The vote has now closed and we can confirm that quoracy levels were not reached and so SUSU will not be taking a position on the current strike action. We will instead focus on ensuring students are fully supported - details of support services available can be found on the University's FAQ page or please contact SUSU via president@susu.org.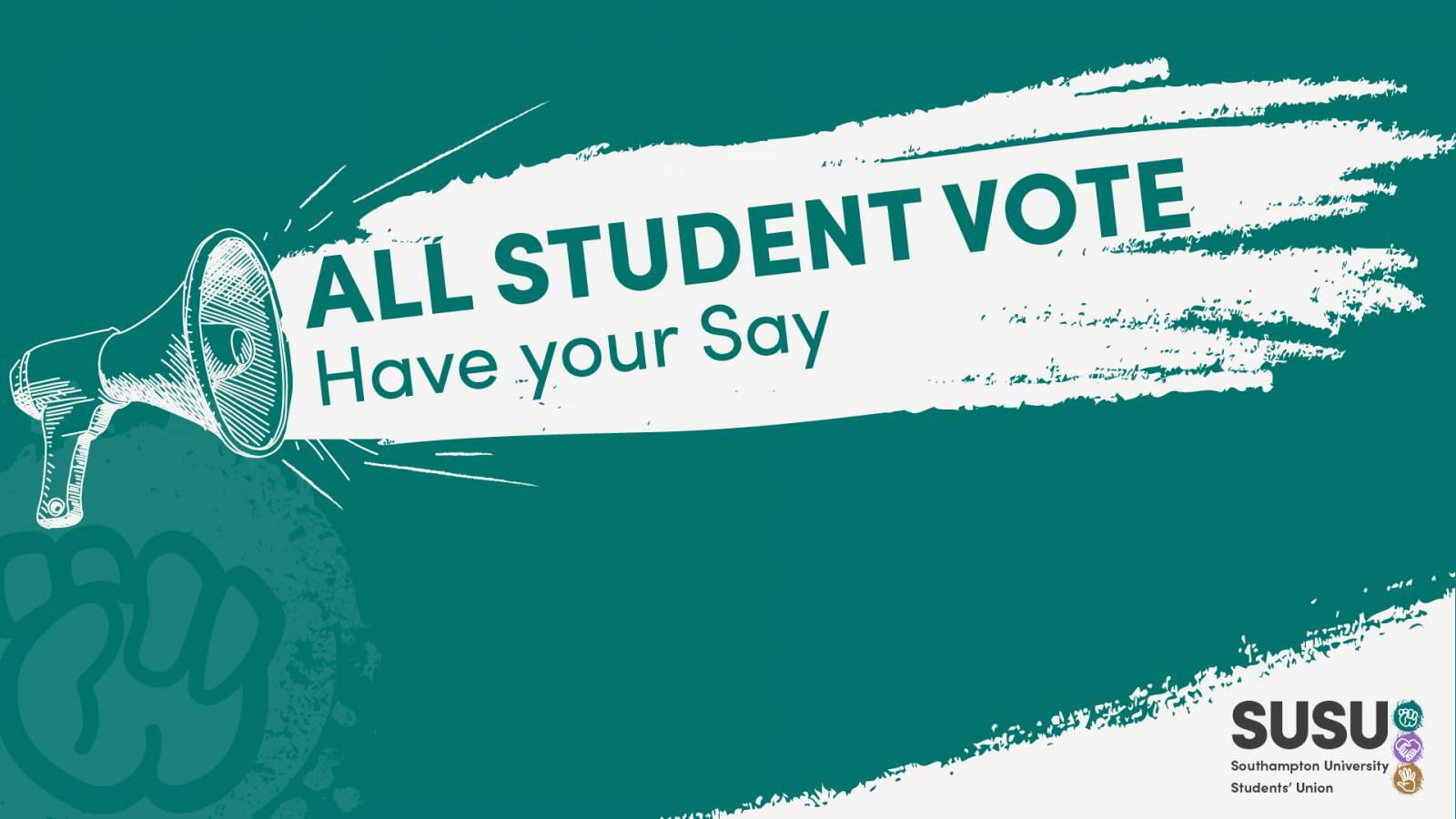 Below we have linked to the official UCU update and background to the dispute as well as Universities UK (UUK), Universities & Colleges Employees Association (UCEA) and the University of Southampton's statement.
The mandate from this All Student Vote will only apply to current planned action; if further action is announced, we will ask students again to tell us how they feel.
Confirmed Strike Dates
Week 1 - Wednesday 01 February.
Week 2 - Thursday 09 and Friday 10 February.
Week 3 - Tuesday 14, Wednesday 15 and Thursday 16 February.
Week 4 - Tuesday 21, Wednesday 22 and Thursday 23 February. 
Week 5 - Monday 27 and Tuesday 28 February and Wednesday 01 and Thursday 02 March.
No action week commencing Monday 06 March.
Week 6 - Wednesday 15, Thursday 16 and Friday 17 March.
Week 7 - Monday 20, Tuesday 21 and Wednesday 22 March.
Support for Students
SUSU is committed to supporting students during Industrial Action, whether that's through support and advice at our Advice Centre, our supporting our Academic Representatives to answer any questions you have. You can also always email our VP Education and Democracy: vpeddem@soton.ac.uk or Union President: president@soton.ac.uk.
If you have concerns about the impact that strike action has had on your degree, The Advice Centre can support you with special considerations applications or complaints. Contact us on advice@susu.org or by phoning 02380 59 2085. We are free, independent and confidential.
UCU
University and Colleges Union (UCU) represents both academic and professional staff at 150 UK Universities. Nationally, they have over 120,000 members. Membership of a Union is confidential so how many staff are intending to strike at the University of Southampton cannot be estimated.
UCEA Statement
The University and Colleges Employee Association (UCEA) supports UK Universities with advice and guidance on employment and reward matters. They are formed of a board of Vice-Chancellors, Principles and Chairs of governing councils of member Universities, and undertake voluntary negotiations at a National Level. The University of Southampton is a member.
What is an All Student Vote?
An All Student Vote takes place when we need a student mandate to be able to proceed with effectively representing student voice. Every student at the University can vote in an All Student Vote, and we need to receive 10% quoracy for us to act on the result of the vote (which means we need 10% of students to vote).