Pagan & Witchcraft Society
Welcome to the Pagan & Witchcraft Society ✨We are enchanted to meet you!✨ Step into a realm where ancient traditions entwine with modern magic, and the spirits of enchantment roam free. Welcome to the Pagan & Witchcraft Society, a vibrant community that embraces the mystical arts and celebrates the rich tapestry of paganism and witchcraft. 🔮 Our society is a sanctuary for seekers of all paths, from those taking their first steps on the magical journey to seasoned practitioners seeking camaraderie and wisdom. Together, we delve into the mysteries of the craft, empower one another, and find solace in the shared enchantment that unites us. 🫶 Join us as we weave spells of wonder, share insights, and celebrate the magic that lies within and beyond. Our enchanting adventures await you. 🍄 Blessed be! 🪄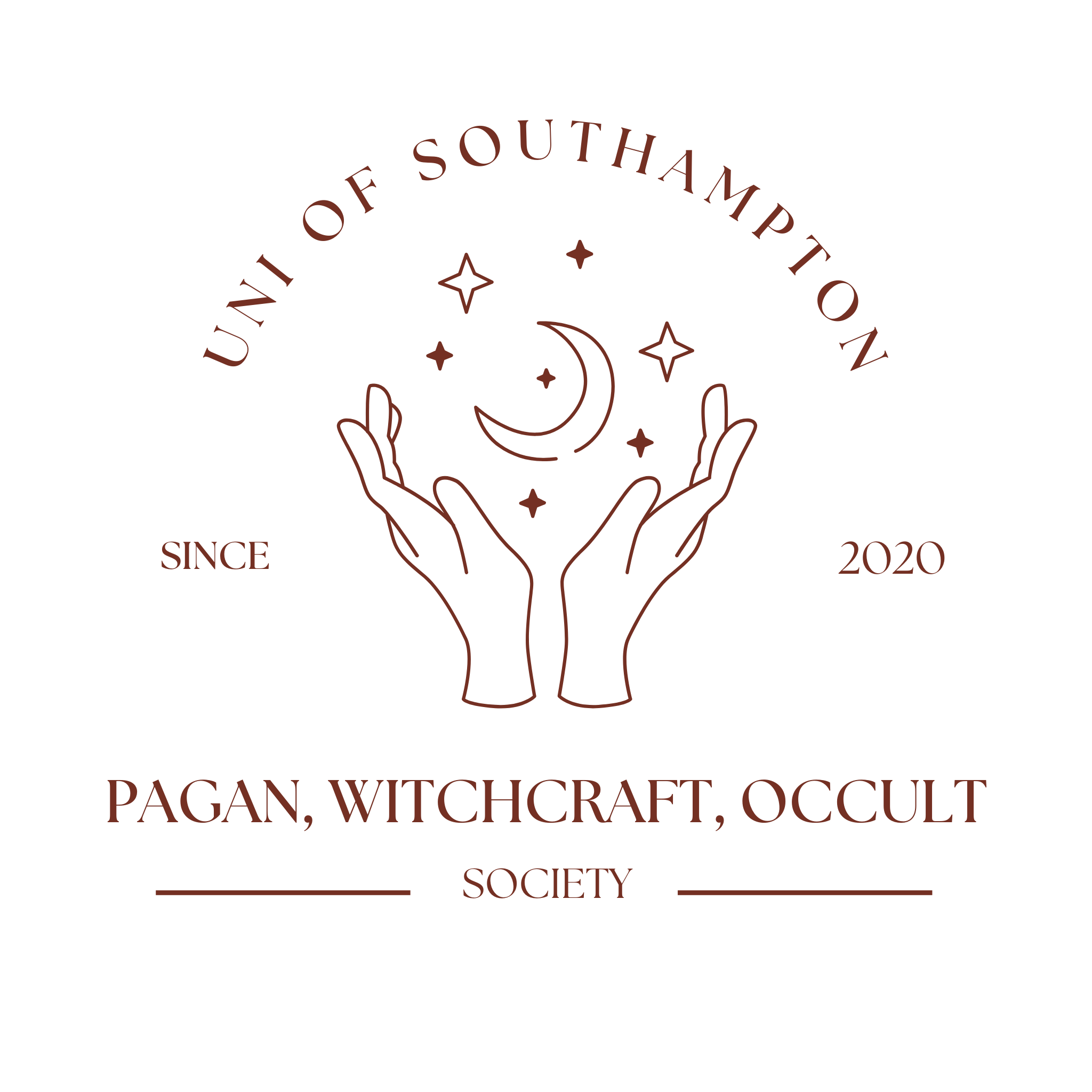 Welcome to the Pagan & Witchcraft Society 🌙✨
Welcome to the Pagan, Witchcraft and Occult Society, a vibrant and inclusive community dedicated to embracing the magic that lies within and beyond. 🌟
🪄🌿 Embrace the Magic: Our society serves as a sanctuary for all individuals, whatever your path may be! We honour and celebrate the diverse traditions and practices of paganism, witchcraft and the occult. 
🌕🌑 Magick Mondays: We are the home of #MagickMondays, a bi-weekly evening spent exploring spellcraft, divination, herbalism, and more. These enchanting evenings are brimming with knowledge, practical workshops, and lively discussions. 
🌿🕯️ Rituals & Sabbats: We honour the sacred cycles of nature and the turning of the seasons by celebrating sabbats, full moons, new moons, and other celestial events. Our rituals are a tapestry of ancient traditions and modern interpretations, harmonising with the ebb and flow of the universe.
🏠💻 Free At-Home Activities & Online Workshops: We offer free at-home activities and online workshops hosted by us and pagan folk worldwide! Join us for talks by Professor Ronald Hutton, the Last Thursday Society, and more!
🎉🌟 Join Us for Free! We are a completely free society and offer free workshops, socials, activities, etc! Occasionally we may have workshops or socials that require payment, but we will always try and avoid these and let you know in advance. 
🔮✨ Ready to Unleash Your Magic? We ask that members RSVP via the Lounge app (in our links), as it supports us with sponsorships and running free workshops! However, this is not mandatory and you are welcome to any and all events.
Photo Gallery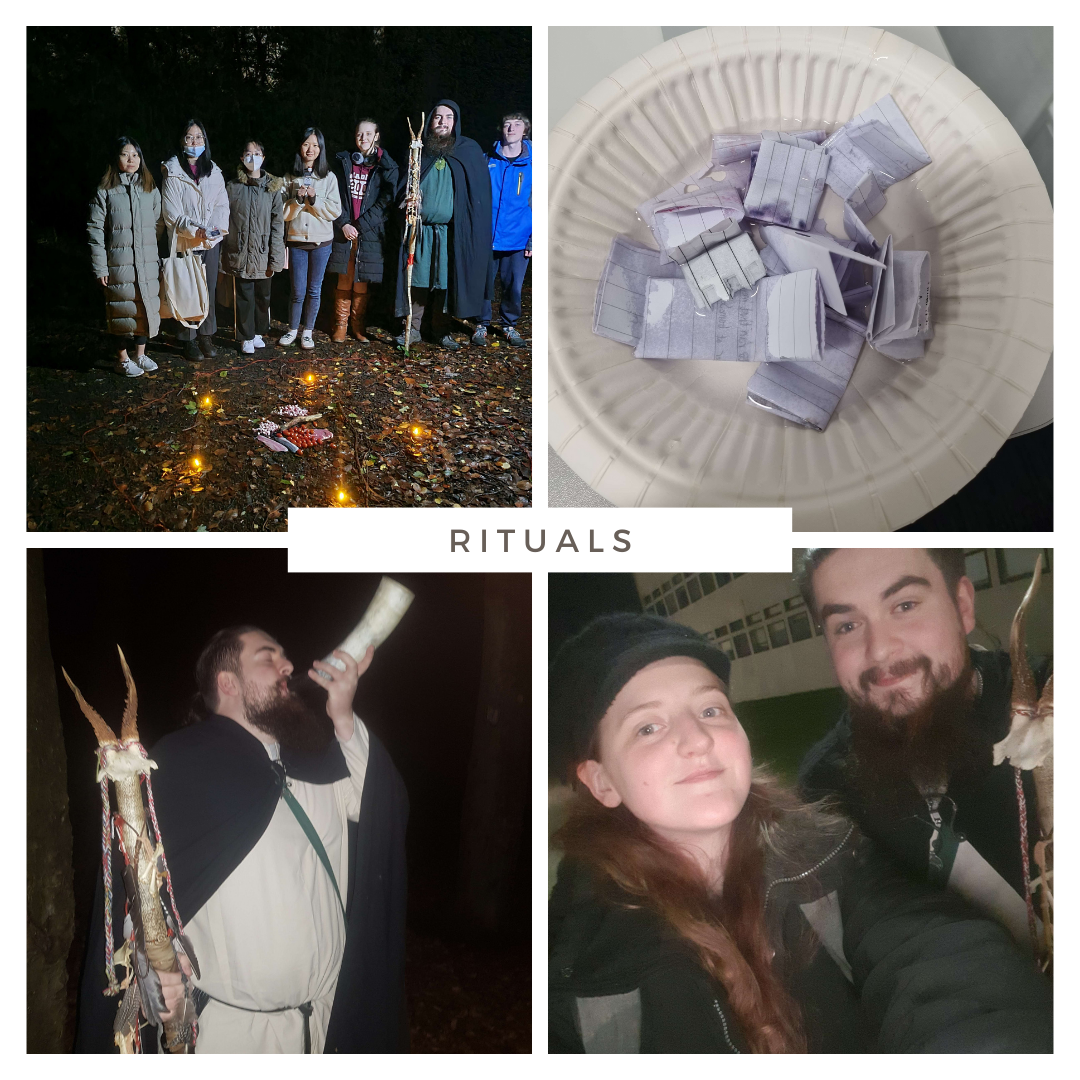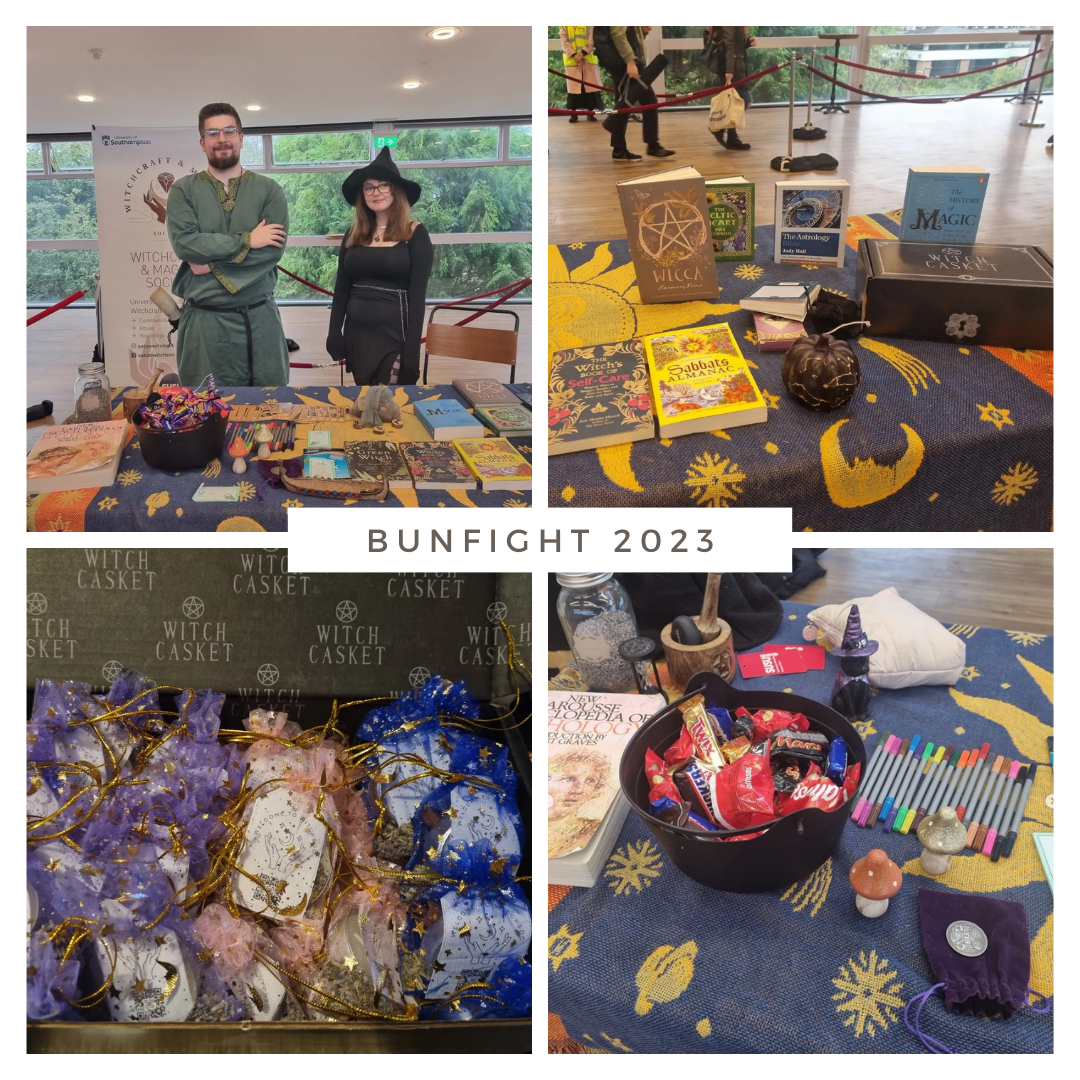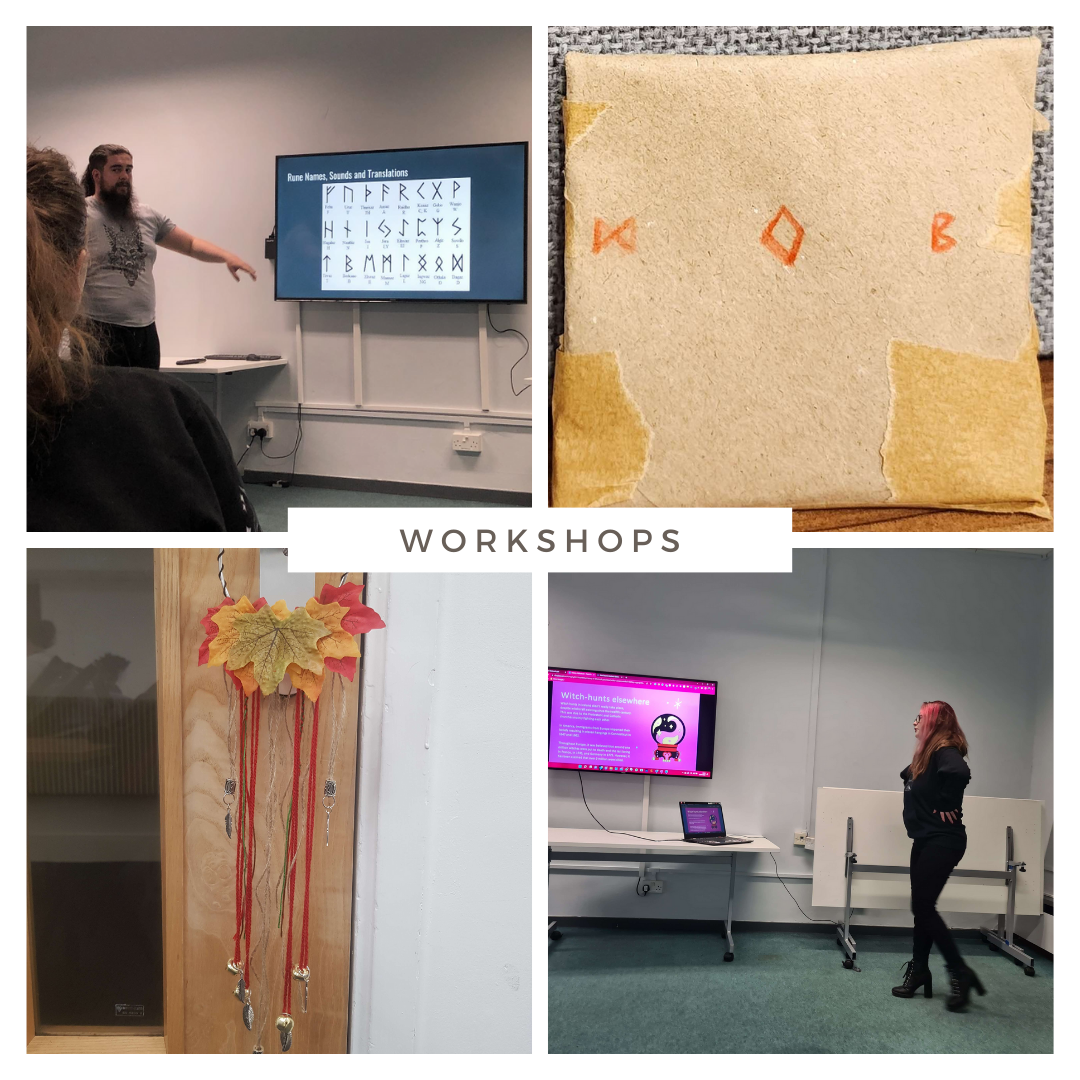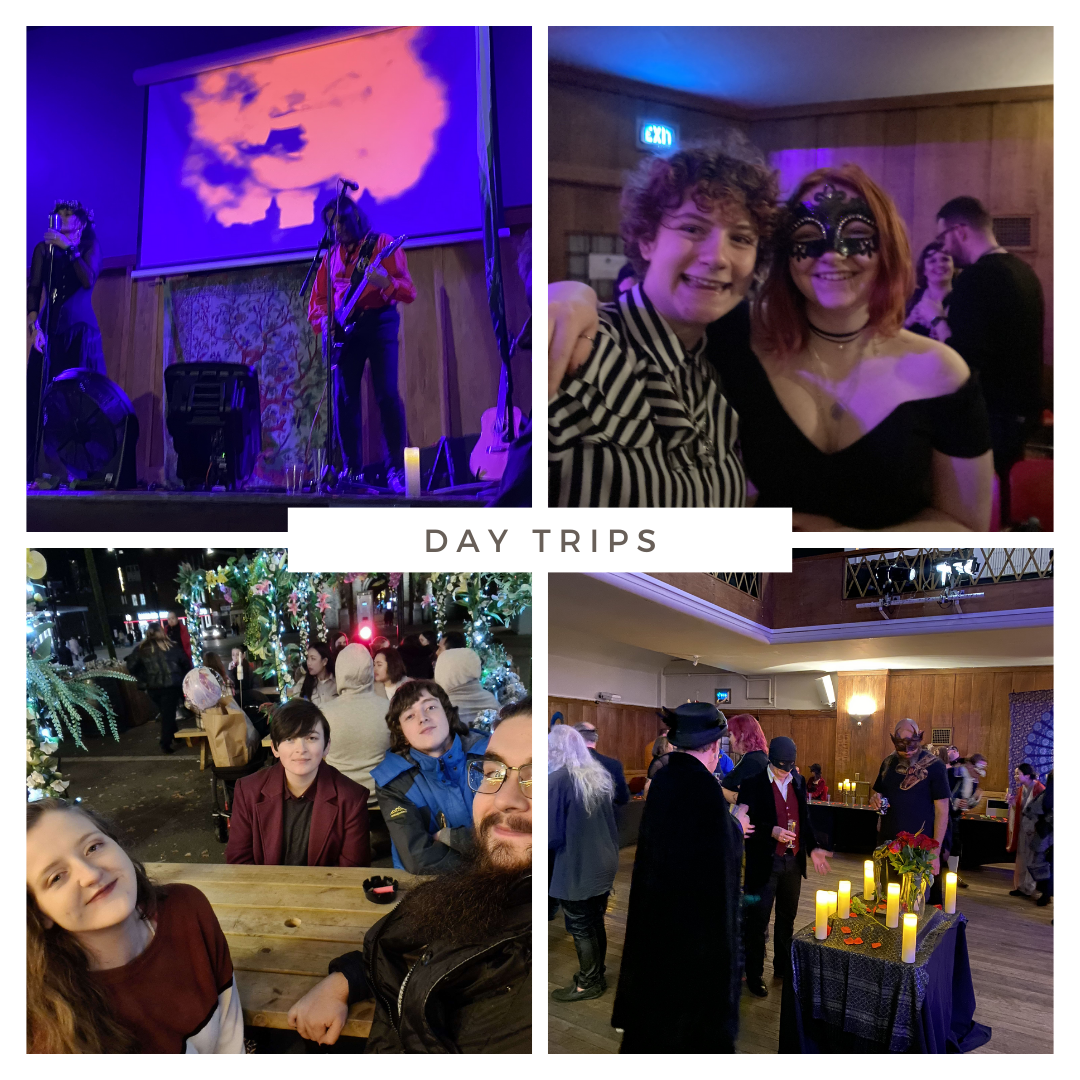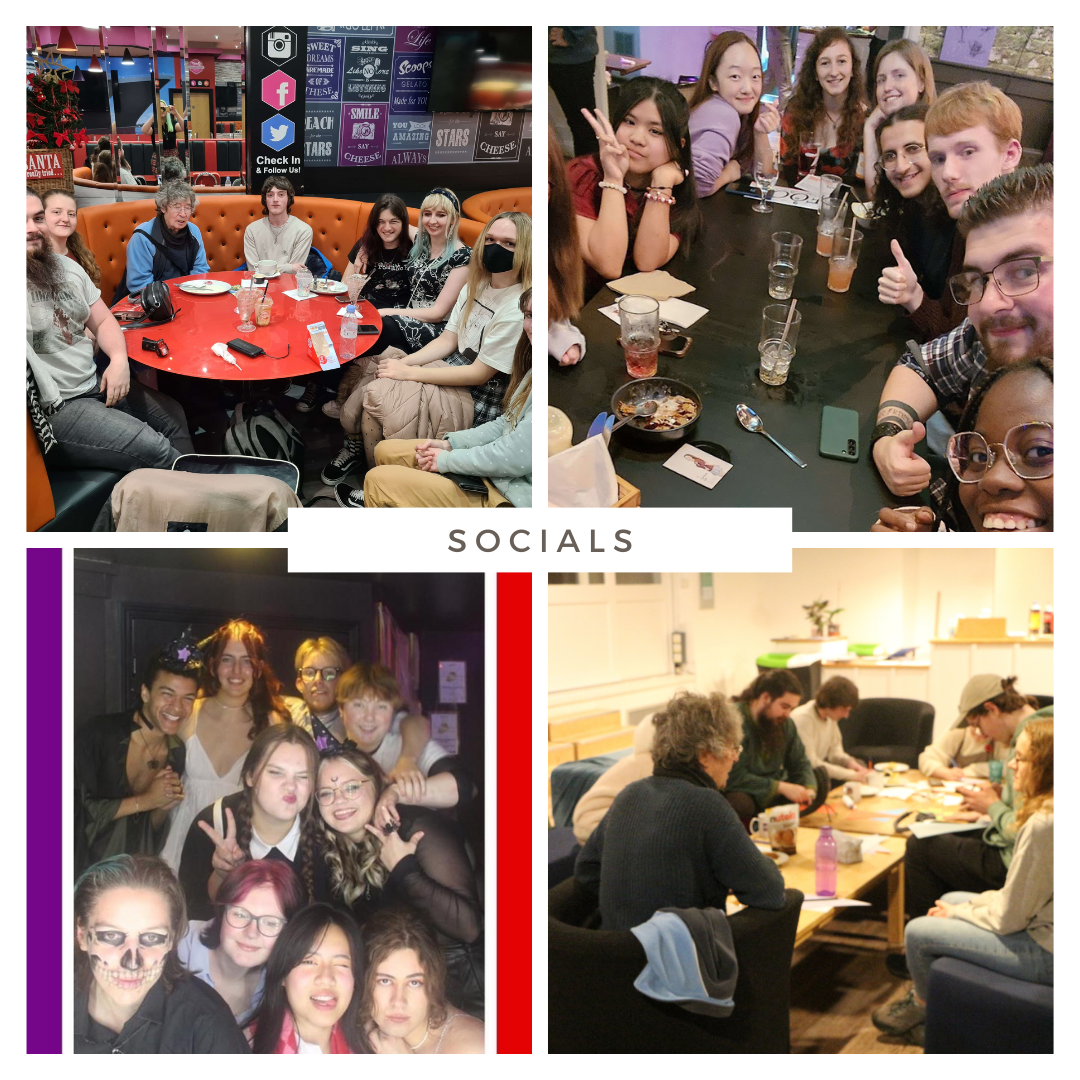 The Committee
All clubs and societies within the Students' Union are run entirely by students. The student committee for Pagan & Witchcraft Society this year are:
Lottie James
President
Ronnie Nobbs
Rituals Officer
Beth Waller
Secretary
Jaz Digance
Treasurer
Shemoya Carty
Welfare Officer
Zephie
Welfare Officer
Membership Information
These are the current membership fees offered by Pagan & Witchcraft Society, although many clubs and societies offer a free period for new members to try out their activities.
| Name | Cost | Valid Period | Details | |
| --- | --- | --- | --- | --- |
| Moonlight Sages | FREE | 01/09/2023 - 01/09/2024 | Moonlight Sages are esteemed members of our enchanted community. As guardians of ancient wisdom, they draw strength and inspiration from the gentle embrace of the moonlight. In our society, we embrace a spirit of inclusivity and welcome practitioners of all levels of experience. As a Moonlight Sage, you will be granted exclusive access to all events, activities, workshops, and resources within our magical realm. Whether you're just starting on your path or have journeyed far, we invite you to join us in the moonlit embrace of knowledge and camaraderie. Your presence and contributions enrich our gatherings, and your counsel serves as a guiding light for those embarking on their own spiritual journeys. Embrace the moon's radiant wisdom and join us in illuminating the path to mystical insights and transformation. | |
| Mystical Patrons | £2.00 | 01/09/2023 - 01/09/2024 | Mystical Patrons are revered members of our community. Your generous support helps us create magical experiences and a sanctuary for all pagans and witches. As a Mystical Patron, you will gain exclusive access to our captivating activities, events, and valuable resources. You can also help shape our future by participating in our decision-making processes. Your kind donations go towards material costs, ensuring we can continue providing these services. Your support is essential to our mission, and we are grateful for your willingness to help us make a difference. | |
Constitution
All SUSU clubs & societies must have a Constitution which governs how they run
Download Constitution
Health & Safety
All clubs & societies are required to risk assess their activity to ensure it is carried out in a safe manner for members. Current risk assessments for Pagan & Witchcraft Society are available to view below
Upcoming Events
Check out our upcoming events below: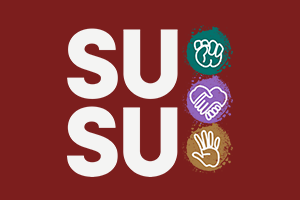 Monday 04 Dec
Introduction to Sigils
Faith & Reflection Centre
In this workshop, we will be learning about the magic of sigils and creating our own.
...
Find Out More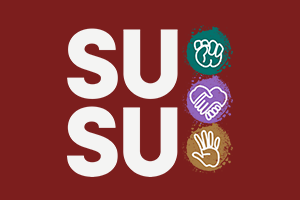 Monday 11 Dec
Yule Ritual & Social
Faith & Reflection Centre
Ronnie and Shemoya will hold a ritual to celebrate and welcome in Yule! This will be an indoors r...
Find Out More
You May Also
Be Interested In...