Louise Chase
Candidate for SUSUtv Station Manager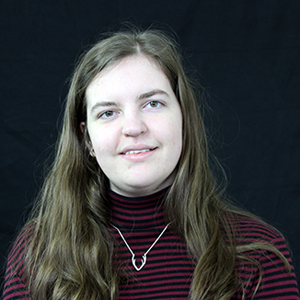 Continue regular training and creative labs
More collaborations across the university
Regular news content from a broader variety of topics
Monthly roundtable talks on news and current affairs
Introducing pop culture-related content and entertainment
Why vote for me?
Since joining SUSUtv two years ago, I have adored every moment as part of such a welcoming society and Committee, from being part of projects from livestreams, to student films, and documentaries. It was for that reason I became Sports Executive and would love to be Station Manager next year.
Molly's introduction of the regular training sessions and creative labs last year were a fantastic idea. They highlight the creativity within SUSUtv's members and present a centralised way in which they can share their ideas for others to get involved. These have worked really well and have produced some fan-favorite projects, and I would love to see what could come next!
An element I would like to expand on is our news coverage, so that it includes current affairs beyond Southampton; having previously covered the extinction rebellion protests as well as the 2019 General Elections. I would continue to expand our coverage, especially with the Tokyo Olympics this summer.
A new style of project that I'd like to introduce is monthly roundtable discussions on current affairs and major stories in the news. This could allow for collaboration with other societies across the university, through links I have forged independently with other societies from LGBTQ or The Edge.
I would love for members to showcase their own interests, whether it's nerdy or sporty, musical or factual. Speaking of nerdy, I would expand pop culture coverage, from big announcements to attending events such as EGX in London, or game-related challenges.
Download
Budget
Louise has not spent any of their budget yet