Morgan McMillan
Candidate for The Edge Editor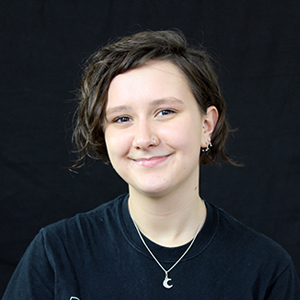 Encourage diversity: review non-Hollywood films, foreign and instrumental music, etc.
Increase articles commenting on inequalities within the industry
Encourage writing from different stances/opinions on the same topic
Increase on-campus presence to encourage new writers
Run meetings/workshops throughout the year so joining isn't as intimidating
Why vote for me?
I'm Morgan, a Britney Spear's obsessed second year history student. As Records/Live PR I've loved writing, organising events, but mostly working with companies/writers to get great opportunities to review – including Lewis Capaldi and The 1975! As editor I would use the skills I've learnt to continue The Edge's growth, and I pledge to:
Make the magazine more inclusive and diverse, for example:
Records/live – emphasise the importance of other genres, or even non-English, instrumental music.
Culture – introduce a new monthly article which has book suggestions and art exhibits/museums to check out. This will be to strengthen the literacy/art side of the magazine which has been forgotten about.
Film – express the importance of reviewing foreign movies instead of the main focus around Hollywood blockbusters.
Encourage writers to create more articles on important topics such as the lack of diversity in the industry or the social impact of music/art/film etc.
Encourage writers to review from different stances e.g. one writer praising something, the other critiquing. This will give the magazine more than one opinion and broaden our readership.
Increase on-campus presence, instead of reaching out to new writers via social media. For example, when prompts for a new magazine are coming out have a stand in the SUSU building. This will encourage more prompt up-take, as well as showing that it's easy to join no matter your writing ability/experience.
Run more meetings/workshops (i.e. how to interview) throughout the year, making it easier and more comfortable to join mid-year.
Download
Budget
Morgan has not spent any of their budget yet