Galyna Mandra
Candidate for Vice President Welfare and Community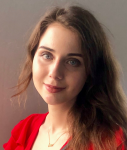 Passionate about increasing student participation in SUSU initiatives across the University
Quick-learner who enjoys working with peers for peers
I appreciate SUSU values and feel like-minded with them
Both physical and mental health of students matters, I believe
Will work closely with student Reps, services and the Senate
Why vote for me?
I am applying for this role of a VP Welfare & Community Sabbatical Officer following my enthusiasm for all the activities SUSU is committed to on the daily basis for the benefit of our student community. Having been a part of SUSU in different positions (simply as a student, student representative, member of the Senate and, at the moment, Politics & IR Department president) for the past four years, I have had a great chance to observe' first-hand'- and participate in what we call the SUSU's students-for-students Vision. Expecting to graduate with a BSc degree in International Relation this summer, I am interested in getting to work full-time for SUSU in this role because it would be an excellent opportunity for me to obtain an exceptional practice in serving public interests by leading on student welfare, equality and diversity – three central aspects, I specifically appreciate about our Union's policy.
I feel that I have the required transferable skills in communication, leadership and organisation, which are crucial to the normal duties of a Sabbatical Officer. If I were chosen for it, I would dedicate my full passion for student representation within our Union and University to assure that all areas of work I get to coordinate are treated with a due attention and in a proper manner.
Based on my own student experience, specifically the most recent one – 'during the pandemic', I recognise how important it is to consistently promote and ensure student safety and wellbeing, both physical and mental, via the great body of student service and initiatives driven by SUSU. Therefore, as a Sabbatical Officer, I would partially focus on facilitating such vital campaigns as our mental health awareness month, LGBTQ+ History Months, Black History Month, and other.
As a person, I am an easy-going tenacious quick-learner, thus, I would do my best to use the provided training to become a truly well-equipped VP Community & Welfare, promoting SUSU values and collaborating with multiple divisions, most importantly, with Enabling Services and Student Life.
Budget
Galyna has not spent any of their budget yet