Ava Edwards
Candidate for Law School President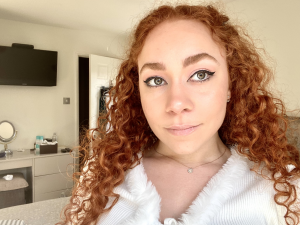 Key Points
A friendly face for you to feel comfortable speaking with.
Strong leadership skills and organisation to be your reliable president.
Current course representative with experience of listening and making changes.
Will strengthen the community with social media and communal spaces.
Your president: I'll make improving your university experience my priority.
Why vote for Ava Edwards?
I am a friendly and approachable person with a passion for being involved in the Law School community. I would love to represent each student and be your dependable, helpful first point of contact. Due to my previous role as a pastoral prefect, I can provide useful advice and be available when you need to reach out for support or guidance.
Currently, I am the first-year law course representative, demonstrating I have the required skills to excel at being your president. I am a strong communicator, shown through my regular communication on group chats. This means I will be well-suited as the president when attending meetings with university staff and relaying information back to students. Additionally, I have created multiple forms to gather feedback across the Law School, demonstrating I am efficient and devoted to understanding what you like about the school, and what improvements should be made. I also have strong leadership skills, meaning I will succeed in being the lead academic representative in the law school.
I have three main improvements I would like to achieve being the President, aiming to strengthen the Law School community. Firstly, I would like to set up a social media account to be a clearer and more casual way for students to access Law School announcements and events. Secondly, I would like to improve the PAT system so that everybody can benefit more from it. Finally, I would like to improve the communal areas in the Law School for everybody to enjoy.
Nobody has asked Ava Edwards any questions yet, why not ask one yourself?