Aadrika Singh
Candidate for Psychology School President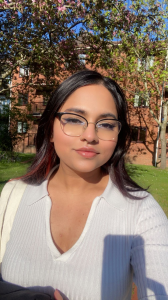 Key Points
Social events to get more students involved.
Help facilitate better relations between faculty staff and students
Hold bi-monthly town-hall meetings to hear student concerns
Careers events to help provide students with psychology-centric advice
Transparency about how SUSU or department changes affect students
Why vote for Aadrika Singh?
I am interested in enriching student life and bettering student experience, especially within the School of Psychology. I intend to create a welcoming environment that is built on transparency. As President, I will be the main point of contact for all undergraduate and postgraduate students so I want students to know they can always reach out to me. This includes holding bi-monthly townhalls meetings where psychology students can come and express their concerns and have their voices heard. Also, I understand it can be intimidating to talk to a faculty member, so I want to help facilitate open communication and better relations between the students and faculty staff.
The main focus of my platform is organising more careers events or evenings that can help provide students with psychology-centric advice. While attending multiple career fairs and events, I have noticed that there are not many opportunities presented for psychology students. This is why I plan to make psychology career opportunities more readily available. This includes bringing in external speakers from various professional backgrounds who can give advice on future career planning. I will also coordinate with the Year in Employment team to advertise more placements geared towards psychology students.
Additionally, I aim to improve student involvement by reaching out to students within the psychology department to encourage participation in university-wide events. I plan to organise social events where students can interact with each other more like movie nights and other events in collaboration with PsychoSoc.
Thank you for reading my manifesto!
Nobody has asked Aadrika Singh any questions yet, why not ask one yourself?