Abhishek Singh
Candidate for Engineering and Physical Sciences Postgraduate Research Officer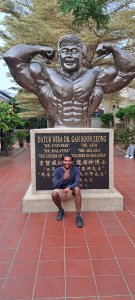 Key Points
Structured window to hear the suggestions and voice of PGR students.
Fun loving and interactive personality.
Transperency
Good communication skills
Research enthusiast
Why vote for Abhishek Singh?
Hello University mates,
I am Abhishek, PhD student in FEPS. I hope you all are having a great experience with the SUSU. I also admire our student union and follow the events and activities they host. As a research enthusiast, I always have a keen vision of the things happening around me. The approach is to learn from those events and find out ways of constructive improvement. In my research and academic work, I have a similar way of doing, which motivated me to interact with fellow researchers and provide opportunities to learn and suggest from experience. Apart from academics and research, I have always enjoyed volunteering the extracurricular activities, which I believe will help me serve in this position. In my experience, I have participated in many activities and held many positions of interesting roles and high responsibility during my master's and undergrad. Some of them are:-
Member Research Council at Indian Institute of Technology, Mandi.
Member Society for Collaborative Research and Innovation (SCRI).
Co-ordinator MounTain Biking Club (MTB) at Indian Institute of Technology, Mandi.
Co-ordinator National Service Scheme (social service).
With all this experience and motivation to be the voice of PGR students, I believe if I got a chance to serve on this post I could be a good point of contact for PGR students. As a Ph.D. student, I understand that research students' work-life balance is highly fluctuating and it's unlikely to eliminate this factor but I will try to create an environment, which at least attenuates it up to some level. Plans I have in my mind to do so are:-
Clear map to identify the point of contact with faculty for specific concerns.
Providing information about the social events in the university from a PGR student's point of view.
Social gathering of the PGR students for reviews and suggestions.
Fun activities for stress buster etc.
I will be open to new suggestions and discussions for the betterment of our PGR culture. Hope to see good participation on voting day. Please cast your vote.
Nobody has asked Abhishek Singh any questions yet, why not ask one yourself?