Mary Bichard
Candidate for Health Sciences School President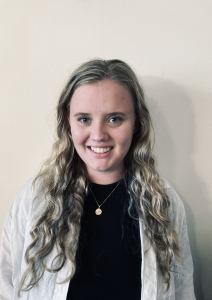 Key Points
Represent all students across the school
Support and encourage diversity and inclusion
Encourage open communication between faculty and students
Improve the student experience within Health Sciences
Ensure students feel supported to succeed in their studies
Why vote for Mary Bichard?
In the previous academic year I have represented the MNurs Adult and Child nursing programme within the department and ensured all feedback from students is passed on in a timely and professional manner. I have engaged with other aspects of the school such as the beginning of the Schwartz rounds programme. I have an interest in all aspects of healthcare and hope to support and bring all students from each department together.
During placement I actively sought out opportunities to work with allied health professionals and I aim to ensure all areas of the school are adequately represented. Furthermore, as a representative I have also made contact with our PGDip programme for nursing and hope to provide representation for our post graduate students as well. I also hope to encourage active involvement in school wide initiatives to develop the sense of community among students.
I have previous experience in representing diverse groups of individuals in a way which meets their goals and needs. I am passionate about improving diversity and inclusion within the school of health sciences as I believe healthcare professionals should represent the community they serve.
All in all, I hope you will consider me for the role of Health Sciences School President and I hope to represent the entire student body as we move into the next academic year.
Nobody has asked Mary Bichard any questions yet, why not ask one yourself?