Charles Levitt
Candidate for Intramural Officer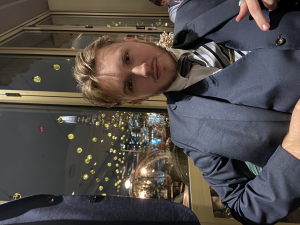 Key Points
Lobby SUSU to introduce an Intramural Womens Football League
Lobby SUSU to implement independent referees to stop corrupt decision
Expand dialogue between clubs to resolve issues
Work closely with SUSU to provide support for new clubs
Improve transparency between SUSU and IM teams
Why vote for Charles Levitt?
My name is Charles Levitt and I am running to be your next Intramural Officer. I believe that my open-minded attitude and innovative ideas make me the perfect candidate to truly represent yours and your teams best interests.
Being a participant of Intramural sport for the past two years has exposed me to the problems all intramural teams have had to face. From last minute cancellations to questionable officiating, we have all suffered at one point. But whilst problems are commonplace anywhere and everywhere we go - it's how they are managed and addressed which determines whether the problem lingers around like a rotten scab. For too long, these problems have not been addressed adequately. As a result, dialogue has stagnated as disillusion has increased. For real change to be achieved, that dialogue has to be reopened amongst the students. If voted, I will actively encourage all teams to get in contact with me and SUSU to help resolve any issues, whilst expanding any dialogue between the parties involved to find quicker, more effective solutions.
One issue which has not been resolved within Intramural sports is the officiating. For too long, teams have suffered at the hands of unqualified and morally questionable refereeing from other teams. Whilst everyone has benefitted from this at least once, it means everyone has also suffered, sometimes at the expense of entire seasons. Imagine you got relegated because of a dodgy decision. Imagine you missed out on Varsity because of a dodgy decision. Imagine someone else won the league because of a dodgy decision. Its not great is it? Sub-standard refereeing has also resulted in tremendous levels of abuse directed at the referees themselves, which ultimately benefits no one. I see one effective solution to this, and that is introducing fair, impartial referees. If voted, I will lobby SUSU to introduce independent referees so that intramural sport does not fall victim to this anymore.
I believe also that Intramural Sport should provide an opportunity to all people irrespective of who they are within the University. Therefore, it is unacceptable that there isn't a fair level of gender representation within this. If voted, and if the demand is great enough, I will lobby SUSU to introduce and implement an Intramural Womens Football League. There is no better time than now, so why not make it happen? Not just that, but if you vote me in, I will also ensure that any new team gets the support they deserve as they begin their journey, ensuring the opportunity of sport is made available to more.
All in all, Intramural Sport has the potential to play an integral part in everyones University experience. That potential will not be realised if it is not nurtured and cultivated though. If you vote me, I will work closely with SUSU to ensure IM Sport is promoted further up the university ladder, helping your club, and your University experience. So therefore, if you want true representation, vote for me. Vote for Charles Levitt
Nobody has asked Charles Levitt any questions yet, why not ask one yourself?