Anna Foster
Candidate for Medicine Faculty Officer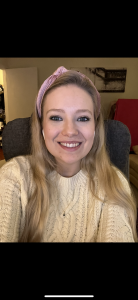 Key Points
Improving relations between staff and students.
Support for diversity and equality.
Staff and student wellbeing.
Friendly and approachable point of contact.
An enthusiastic, organised and hard working representative for the students.
Why vote for Anna Foster?
Hello! My name is Anna, and I would love to represent you and our faculty this coming year! I am a third-year medic on the BM5 course, and very enthusiastic about working in any way I can to improve our fantastic medical school!

I am really passionate about improving staff and student relations. The last few years have been particularly tough for us all, and now more than ever I think it's vital that we work together to create a better sense of community and trust within our faculty. I am really keen to be the middle ground - I will bring a strong connection between the staff and students to the role, allowing each side to be better heard and understood, boosting well-being and satisfaction in the faculty! If you are a student, I will always be happy to hear your thoughts and feelings and be the voice that passes them on to the staff. If you are staff, I am really enthusiastic to learn about what we as students can do to improve the faculty for everyone.

Another aspect I will bring to the role is a commitment to improving diversity and equality within medicine. I grew up in foster care, and know first-hand that medical school can be particularly tough if you come from a less-represented background. Doctors should represent the society they serve; therefore, all different groups of people should feel empowered and supported during their medical school journey. I know this is really important to the faculty, so in many ways, I feel I'm the perfect student to work alongside them given my own experiences and enthusiasm to explore the needs of our amazing and diverse student group!

I feel I've got the ideal skills for a faculty officer – I am very organised and will work really hard never miss a deadline or faculty officer commitment. I am positive and enthusiastic, which will be vital when attending meetings and representing the students of the faculty. Finally, the main thing that being a medical student has taught me is the importance of active listening and strong communication skills. As a faculty officer, I will ensure I am always approachable and friendly, allowing students to openly discuss their thoughts and feelings with me, and me to understand them. I will also do the same for any staff members I am in contact with so that I understand how best I can perform my role to help the individuals I will be representing!

Thank you for taking the time to read my statement, I really hope you will consider me for the position – I can't wait to get started!
Nobody has asked Anna Foster any questions yet, why not ask one yourself?