Haasya Vanteru
Candidate for Social Sciences Faculty Officer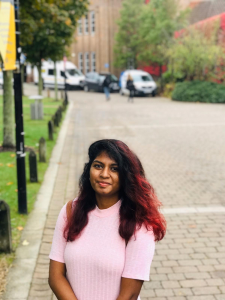 Will strive to enrich student experience.
By teaming up with the course representatives ,will work to provide better support ..
Facilitate positive relationship between university and students.
Initiate many student driven events ,to encourage student engagement.
Lets us together make the life at Uni less stressful
Why vote for me?
Hi there, I am Haasya and I study Business Analytics and Management Sciences. Being a student at Faculty of Social Science, I understand the fellow students and I have your interests at heart. With your voices behind me, I can use my knowledge and my voice, to best represent and implement your ideas. So if you like what I hope to achieve, I would be most appreciative of your support!
If I am elected as Student officer, I would really like to work on these areas:
I would love to work with the university to have more events hosted by faculties, where students can get involved. It would enable students to engage with each other and therefore make faculties more exciting.
I would also like to have more events in the summer time. To allow everyone to really wind down at the end of that stressful exam or coursework period
Your feedback matters and I believe that having a conversation to receive feedback will give much accurate feedback than the long questionnaire, I would love to receive feedbacks from you and I will make sure that your feedback reaches the faculty.
I will work as a team with the course representatives to provide better support.
Let us together make the study at Faculty of Social Sciences much fun and less stressful.
Nobody has asked Haasya any questions yet, why not ask one yourself?
Budget
Haasya has not spent any of their budget yet