Georgios Ntoules
Candidate for Chair of Senate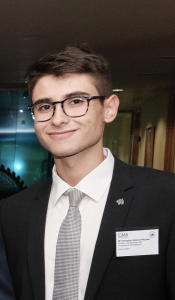 Lobby for the tuition and accommodation fees refund
Ensure that the Sabbatical Officers' decisions are not ultra vires
Guarantee that the Sabbaticals are representing and promoting students' interests
Establish and promote an extensive and intensive collaboration between Sabbaticals-Senate-Students
Make the Senate the students' voice
Why vote for me?
Hello everyone!
My name is George, and I am a 3rd year student at the University of Southampton!
As a lot of you may know, the Union's Senate is the highest political decision-making body of SUSU whose primary concern is to hold the Sabbatical Officers accountable for their decisions.
I decided to run for the Chair of Senate because I have a strong belief that I will be able to assist the students and generally our University's community to get what they really deserve and are entitled to: CLEAR and NON-AMBIGUOUS answers to their questions regarding the issues that all of us face as students such as the future of our studies in the current situation.
My aim is for the Senate to be the body that will support and promote the students' interests and make the students' voice heard in all the issues that concern them. The Senate will always make sure that the Sabbaticals' decisions are in accordance with the students' interests and always to their benefit. Furthermore, if it is God's will to get elected as the Chair of Senate, one of my main concerns will be to assist and support the students' claims regarding the refund they are entitled to for the tuition and accommodation fees.
Finally, I can guarantee that the Senate will establish an extensive and intensive cooperation between the Sabbaticals, the Senate, the Students and the University's administration and that it will always be by their side!
Budget
Georgios has not spent any of their budget yet