Amina Lechkhab
Candidate for Vice President Education and Democracy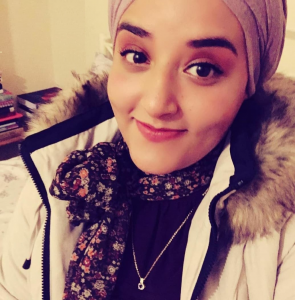 Students' voices inform the change
Bring mental health and wellbeing to the next level
Advocate for maximizing the university response to Covid 19 impact
Decolonize formal and extracurricular education and activities
Promote equality of opportunities and training across the university
Why vote for me?
My name is Amina Lechkhab and I am a final year PhD student working on global citizenship education. Given my research focus on engaging critically and actively with inequalities and human right and being an active PGR representative for two years. I want to build up on my educational, extracurricular and voluntarily background to make a remarkable change to the student experience. I hope to get the trust of the university students to enact my plan as follows:
Students' voices inform the change: Students as the main contact rather than bringing subjective experience to instigate activities and change that affect how we prioritise their principles & needs. Consult, Empower and engage students' voices through: monthly VP Education and Democracy- students' forums, online surveys, padllet feedback "positive, negative and anonymous" to break the silence and fear to communicate, promote more for 'You make change', Encourage students to question regulations. PGR students in particular feel less supported by the union; a specific forum will be dedicated to PGRs.
Bring mental health and wellbeing to the next level: Promote awareness and liaise with the university services such as enabling services, the doctoral college, steps2wellbeing, Southampton city wellbeing facilities and communities to raise awareness and training opportunities of mental health among all students. Encourage students to communicate their concerns and issues to PATs and their course reps to maintain sustainable academic progress. Individuals may possess variant mental health & emotional intelligence abilities and this create a hostile environment for some. Encourage students' making the best of the advice centre expertise, support and orientation to reduce the pressure and stress, as well as advocating for some frequent drop-sessions with the advice centre. The relationship between students mental health, Personal circumstances and academic performance remains under investigated, I intend to collect data to understand the impact and formularise an action plan.
Advocate for maximizing the university response to Covid-19 impact. I spoke to students, and I was communicated a significant dissatisfaction regarding the lack of remarkable support and flexibility after June 2020. This includes extension of deadlines for assignments and thesis submission, as well as reducing the fees. I will advocate to progress beyond treatment of the issue on individual basis.
Decolonize formal and extracurricular education and activities: By gathering data from students, staff and research groups on how their experience is in line with equality and struggle against imperialism and dominance of certain teaching and research supervision methods and content. Liaise with graduate school in different faculties to create a feedback for research students to report anonymously any issues related to knowledge that is approached in a hegemonic way. Advocate for the piloting and provision of relevant training to decolonize teaching and instruction in our institution.
Promote equality of opportunities and training across the university and the UK universities: Lack of opportunities like internships, work experience, fellowship for some subject was reported to me by some students as an established reality. I will advocate for broadening partnerships to widen opportunities of internships and post-doc funding.
Budget
Amina has not spent any of their budget yet