What is groups hub?
Groups hub is the admin hub for each club and society used by both committee members and SUSU staff.
It also lets you update/change information listed about you club/society on the website- so it's important to keep this up to date as it is often the first thing prospective members see about your group!
If you are on a committee member you will be able to access your club/society's groups hub page when logged in by going to https://www.susu.org/groups/admin/ and selecting the appropriate group (or you can go via the link on your SUSU profile). If you believe you should have access to a group but do not please contact suactivities@soton.ac.uk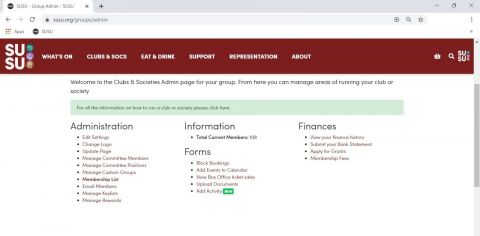 Each page will look like this and is where important tasks such as adding membership and uploading risk assessments can be completed.